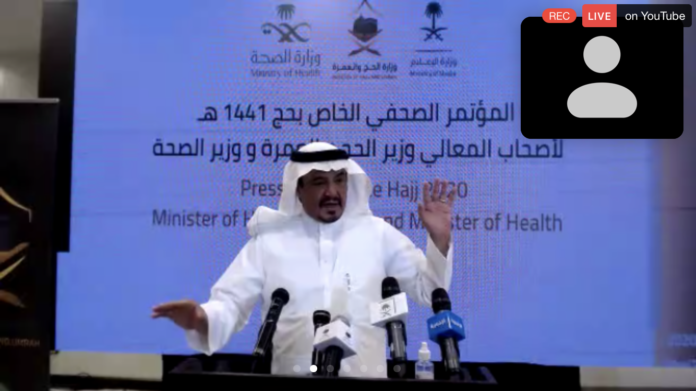 Jakarta (Indonesia Window) – The Saudi Arabia Government has decided to hold the hajj pilgrimage 1441 Hijr/2020, but in a very limited number of pilgrims.
In a virtual press conference held on Tuesday, Hajj and Umrah Minister Muhammad Saleh Benten stated that the number of domestic pilgrims who will be allowed to perform hajj this year will not be more than 10,000 people.
Those who can perform hajj in 2020 are residents in Saudi Arabia, including foreign nationals residing in the kingdom state.
Minister Benten stressed that people from outside the kingdom would not be allowed to conduct this year's hajj performance.
"We have worked with the Ministry of Health to develop preventative and precautionary measures and protocols that are needed to ensure a safe Hajj season," Benten said.
Meanwhile, Saudi Arabia's Minister of Health Dr. Tawfiq Al-Rabiah at the press conference said those who want to perform the pilgrimage must be less than 65 years old and not suffer from any chronic illness.
The following are the health protocols that will be implemented during the 1441 Hijr pilgrimage.
No more than 10,000 people will be allowed to perform the hajj pilgrimage.
All pilgrims will be tested before they reach the holy sites.
Only those under the age of 65 will be allowed to perform hajj this year.
All pilgrims will be asked to self-quarantine after they complete the hajj rituals.
All workers and volunteers will be tested before the hajj pilgrimage begins.
The health status of all pilgrims will be monitored daily.
A hospital has been prepared for any emergency that occurs during the pilgrimage
Social distancing measures will be enforced
Every year, around 2.5 million worshipers from around the world visit the holiest Islamic sites in Makkah and Medina, thus increasing the possibility of spreading COVID-19.
So far, the COVID-19 pandemic has spread to more than 180 countries with around 9.2 million confirmed cases and nearly 476 thousand deaths.
There are currently 161,000 confirmed COVID-19 cases in Saudi Arabia, with 1,307 deaths.
Reporting by Indonesia Window