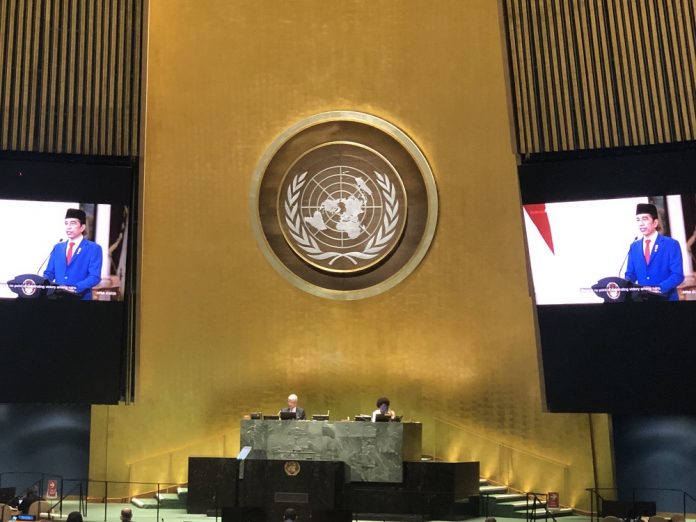 Jakarta (Indonesia Window) – President of the Republic of Indonesia Joko Widodo has stated that Indonesia has an unwavering faith in the United Nations and multilateralism is the only way that could guarantee equality.
The president made the statement at the virtual general debate of the 75th Session of the United Nations General Assembly (UNGA) in New York on Tuesday (Sep 22).
The head of stated remarked that the U.N. should  continue  to  improve  itself through reforms, revitalization and efficiency.
"The  U.N.  needs  to  prove  that  multilateralism delivers, especially during the time of crisis. The UN  needs  to  be  more  responsive  and  effective in tackling global challenges. And all of us bear the responsibility to further strengthen the U.N.," he said.
The president asserted that the U.N.  is  not a  mere building  in the  city  of New  York, rather it  represents an ideal and shared commitment  of  all nations… to realize world peace and prosperity for our future generations.
Joko Widodo also emphasized the importance of strengthening  collective  global  leadership.
"We are all aware that when  it  comes  to relations  among countries, in international relations, every country always protects their national interests. However, we  must  not forget that  all  of  us  have  the responsibility  to  contribute to  be  part  of  the  solution for peace, stability, and prosperity of the world," he said.
The president continued, "This is  where  the  U.N.  should  play a role to  strengthen collective global leadership. The  world  needs the spirit  of  collaboration  and a stronger global leadership to create a better world."
Reporting by Indonesia Window