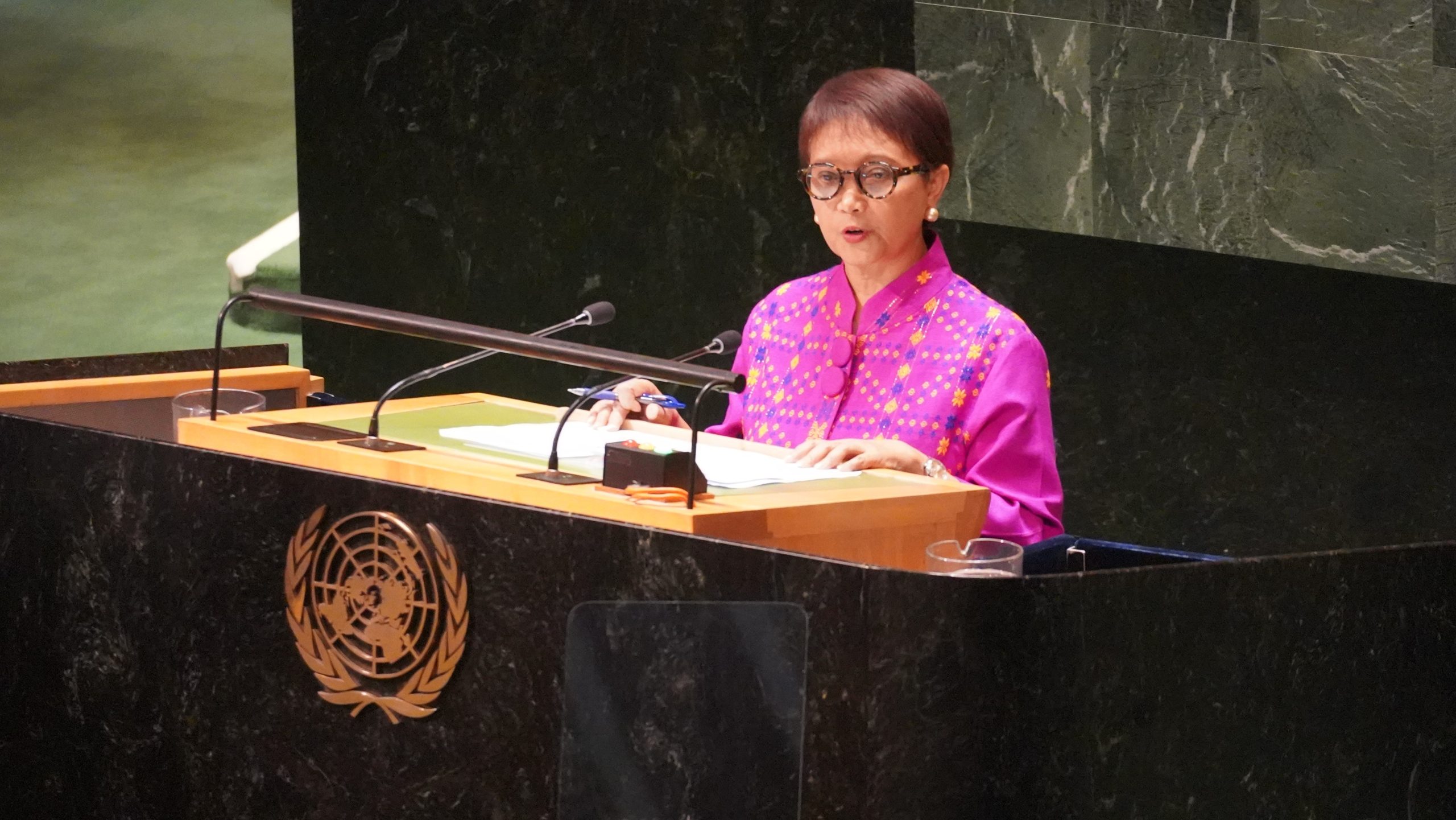 International solidarity needs to be increased to overcome the decline in trust and global inequality, Indonesian Foreign Minister Retno Marsudi said before the UN General Assembly Session, on September 23 in New York.
Jakarta (Indonesia Window) – The world is currently at the crossroads and the only way to overcome the decline in trust and global inequality is to enhance international solidarity, Indonesia's Foreign Minister Retno Marsudi emphasized before the UN General Assembly, on September 23 in New York.
The call to increase international solidarity was taken from the core message of the Asian-African Conference held in 1955, said the Indonesian Ministry of Foreign Affairs in a written statement on Sunday.
Based on the 10 Bandung Principles, Indonesia has called on all countries to respect human rights, the UN Charter, sovereignty and territorial integrity, equality, resolve conflicts peacefully, and encourage increased cooperation and common interests.
This Bandung spirit is what has driven Indonesia to become a country that can listen and always be part of the solution.
"For Indonesia, global leadership is not just about power or influence to dictate to others. Global leadership is about listening to others, being a bridge builder, consistently respecting international law, and respecting all countries equally," she added.
Retno also said that as happened in 1955, the current global situation is uncertain: trust and solidarity continue to be eroded, rivalries between countries continue to sharpen.
According to the foreign minister, this has even hindered efforts to fulfill the SDGs (sustainable development goals) targets in developing countries.
In response to this situation, she further asked: "The question is, do we really have the commitment to rebuild trust, to reignite global solidarity, to attain the SDGs target together? Will our presence today at the UNGA really bring commitment and show readiness towards a global unity and collective responsibility? Or are we going to walk the talk?
For this reason, the foreign minister offered three strategies to rebuild world trust and revive international solidarity, namely: the first is urging global collective leadership.
"The fate of the world cannot be defined by the mighty few," Retno asserted, emphasizing that a peaceful, stable, and prosperous world is a collective rights and responsibility of all countries, big and small, North and South, developed and developing.
The Indonesian foreign minister urged all parties to uphold respect for international law, particularly the fundamental principles of sovereignty and territorial integrity, and ensure that disputes would be settled on the negotiating table rather than at the battlefield.
In particular, this collective responsibility is especially needed to save the Palestinian people and Afghanistan.
"For far too long, we have allowed our Palestinian brothers and sisters to suffer. Indonesia will not back an inch in our support for Palestinian statehood," Retno stated.
The second is advocating development for all. Every country has the same right to develop and grow. However, the global architecture of today only benefits the selected few.
Trade discrimination against developing countries continues to happen. Global supply chain is being monopolized by certain countries. All of these would contribute to eroding trust and solidarity.
"It is time for us to make a real change. Industrial down-streaming must not be an exclusive call of developing countries. Developed countries should also support this call," she said.
Regarding the issue of climate change, the foreign minister also called on developed countries to fulfill their responsibilities, including those on financing climate change, green investment and transfer of technology.
Technology and innovation should not be exclusive, for the selected few. Access to safe and secure digital technology for developing countries, including on AI (artificial intelligence) is crucial for future sustainable growth.
The third is reinforcing regional cooperation. "Regional institutions should be net contributors and building blocks for global peace and prosperity," Retno explained.
ASEAN (the Association of Southeast Asian Nations) is an example of effective regional cooperation that contributes to global peace and prosperity.
As chair of ASEAN (2023), Indonesia has successfully navigated the regional grouping through challenging geopolitical dynamics in the region.
"We will not let our region to be a pawn of rivalries. Instead, Southeast Asia must be an Epicentrum of Growth, where all countries can benefit meaningfully," she added.
She further said that during Indonesia's chairmanship in ASEAN, the association remained united, (and) its centrality was getting stronger.
ASEAN has also begun discussions on its long-term vision 2045, established partnerships with the Pacific Islands Forum and the Indian Ocean Rim Association in order to create a peaceful Indo-Pacific region, and implemented the ASEAN Outlook on Indo-Pacific into concrete and inclusive cooperation.
On the issue of Myanmar, the Indonesian foreign minister emphasized that ASEAN will continue to urge the Myanmar military junta to implement the Five-Point Consensus (5PC). "ASEAN will make every effort to ensure the people of Myanmar are not alone," Retno noted.
At the end of her speech, Foreign Minister Retno reiterated the need for reform of the existing multilateral system and invited countries to translate their commitments into concrete actions.
Editing by Indonesia Window