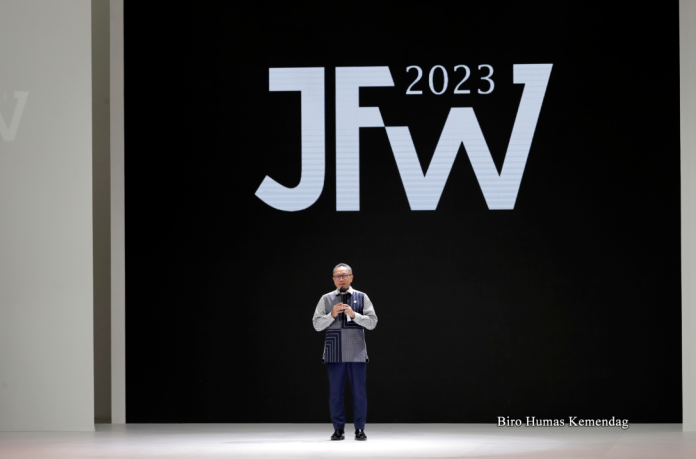 Jakarta (Indonesia Window) – Jakarta Fashion Week (JFW) is expected to be able to grow the fashion industry in Indonesia and penetrate the global market, the country's Minister of Trade Zulkifli Hasan has said.
The government is committed to supporting and facilitating the growth of the Indonesian fashion industry, the minister of trade said at the opening of Jakarta Fashion Week (JFW) 2023 here on Monday (Oct. 24).
"Last week I closed the 2023 Jakarta Muslim Fashion Week (JMFW) with the successful implementation and transaction achievements of nearly 300 billion rupiahs (some 19.2 million U.S. dollars). JFW is a much bigger event and is expected to continue to advance," he noted.
The government, in particular the Ministry of Trade, continues to support business actors, especially those engaging in the fashion sector, to make it bigger, the minister said, adding that it is the duty of the Ministry of Trade to help enter the international market.
"If business actors are able to penetrate the world market, it means that we have succeeded," he added.
"Indonesian fashion is not inferior to any other country because it has resources with extraordinary talents. Therefore, it is time for Indonesia to overrun the world market," he stressed.
Also attending the event was Jakarta Fashion Week's Chairman Svida Alisjahbana, and the Director General of National Export Development Didi Sumedi who accompanied Trade Minister Zulkifli Hasan.
The export of Indonesian fashion products continues to show positive growing progress.
In the period from January to August 2022, the export value of this creative industry increased by 34.92 percent compared to the same period last year.
Indonesia occupies the 16th position as a world fashion exporter holding a market share of 1.69 percent with the main export destinations including the United States, Switzerland, Japan, China and Germany, while the main products of Indonesian fashion exports are t-shirts, pants, blouses, jewelry, sports shoes, and footwear.
Jakarta Fashion Week is an annual event that has been held since 2008. This year, the event is held on Oct. 24 – 30, 2022, aiming to boost the Indonesian fashion industry development and bring the national fashion industry into the global market.
Reporting by Indonesia Window