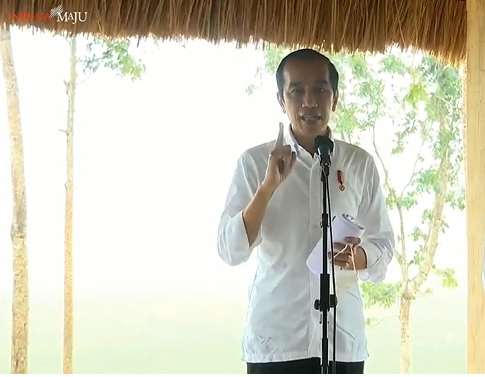 Jakarta (Indonesia Window) – The area of food estate in East Nusa Tenggara province's district of Central Sumba will be expanded to 10,000 hectares, Indonesian President Joko Widodo stated after observing the facility located in Makata Keri village, Katiku Tana sub district on Tuesday.
The head of state pointed out that currently the land provided for the food estates covers 5,000 hectares, consisting of 3,000 hectares for paddy fields and 2,000 hectares for corn crops.
The agricultural land would be extended to 10,000 hectares, so that the rice and corn fields could reach 5,600 and 4,400 hectares, respectively.
According to the president, the food estate is developed in East Nusa Tenggara, especially Central Sumba, because the poverty rate in this area is relatively high. In addition, the rice harvest time in this region is only once in a year.
"The data I have shown that 34 percent of poverty is found here. Besides, the rice harvest in Central Sumba is still once in a year. We want to manage this issue, so that we can harvest rice crops twice, and corn or soybeans once in a year," he said.
In order to support the food estate in Central Sumba, the government has also built some reservoirs and dams, and the number will continue to increase.
The president also instructed the minister of agriculture to provide agricultural machine tools.
He believed that if all food estates in East Nusa Tenggara, Central Kalimantan and North Sumatra, could work well, these facilities were expected to support the national food security program.
Reporting by Indonesia Window