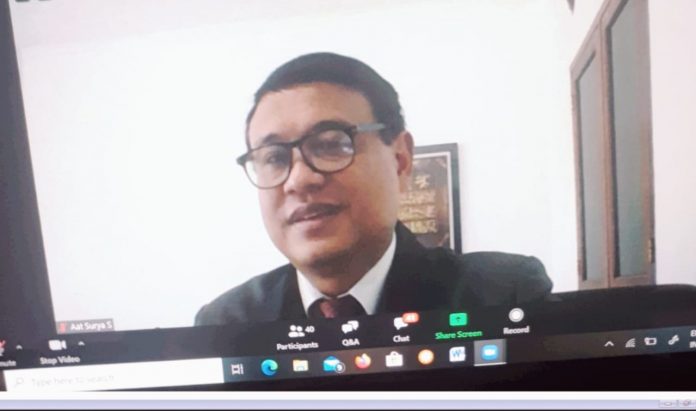 Jakarta (Indonesia Window) – The local wisdom of the Baduy tribe consisting of the indigenous people who live in Lebak district, Banten province, has universal values ​​and wins a special attention from the international community, Indonesia's senior journalist Aat Surya Safaat said during a virtual book review of 'Baduy A Novel' on Saturday (Jan. 30).
"Internationally, there are three issues that never get outdated, namely those on democracy, human rights and the environment. Well, Baduy residents are known to be wise in protecting their environment," said the journalist who is a native to  Banten, who was once the Bureau Head of ANTARA News Agency in New York, USA and a former Chief Editor of the agency.
According to Aat, Baduy A Novel, which is the work of cultural observer Uten Sutendy, deserves to be filmed in a broad screen.
The novel tells about the struggle of the Baduy people in maintaining the noble values ​​they adhere to.
"As a son of Banten, I appreciate and support the plan to make a film that will raise the local wisdom of the Baduy people," he said, emphasizing his optimism that a film about the work of the Baduy community would not only attract Banten residents, but also win national and even international attention.
"That is mainly due to the wisdom of the Baduy people in protecting the environment and preserving the nature," said Aat.
Meanwhile, responding to the proposal to make a film about the Baduy community, Uten Sutendy expressed his readiness because he has received support from film communities as well as a number of public figures and the Banten Provincial Administration.
"However, the plan to make the film could not be implemented soon because of the COVID-19 pandemic," said the cultural observer who is also known as a writer and motivator.
On the same occasion, screenwriter Deddy Otara, who is also the founder of the Omah Otara Gallery, agreed with Aat Surya Safaat that the novel about the Baduy community by Uten Sutendy deserves to be filmed in a broad screen.
"I think the novel by Pak (Mr.) Uten is no less interesting than the novel Laskar Pelangi by Andrea Hirata, which became a best seller and was later filmed in a broad screen. Moreover, Pak Uten has been close to the Baduy community since around 17 years ago," he said.
Baduy A Novel tells the story of the struggle of the Baduy people who defend their ancestral land and noble values ​​from various disturbances of outsiders who want to exploit the natural resources in the area where Baduy tribe exists.
The discussion on the cultural novel was attended by participants from within and outside the country, including Tangerang (in Banten province), the capital city Jakarta, Semarang (in Central Java province), Malang (in East Java province), Batam (in Riau Islands province), and Germany's city of Frankfurt.
They are humanists, artists, writers, academics, and government officials.
Reporting by Indonesia Window