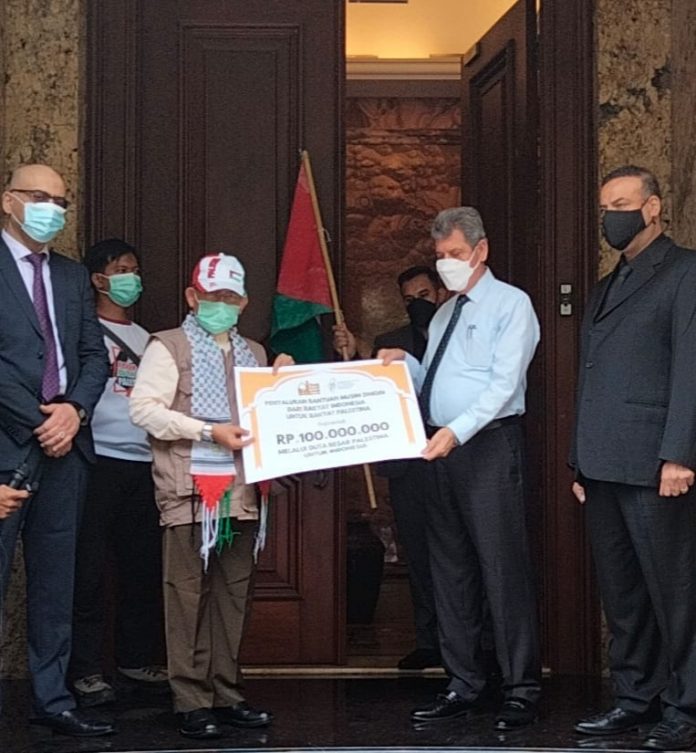 Jakarta (Indonesia Window) – A humanitarian agency, the Aqsa Working Group (AWG), has distributed a donation for Palestinian refugees amounting to 100 million rupiahs (some 7,000 U.S. dollars).
The donation was symbolically received by Palestinian Ambassador to Indonesia Zuhair Al-Shun, from the AWG's trustee Imaam Yakhsyallah Mansur at the Palestinian Embassy Jakarta on Monday.
The donation was handed over at the peak of the Palestinian Solidarity Week initiated by the AWG on the commemoration of the International Day of Solidarity for the Palestinian People.
Chairman of the AWG's Presidium M Anshorullah said the aid from Indonesian people would be fully allocated for such needs as warm clothes and foods to overcome winter.
"This donation is a concrete manifestation of the Indonesian people's attention to our brothers and sisters in Palestine. Hopefully this winter aid will be useful to ease the burden on Gaza people and strengthen the brotherhood of the Palestinians and the Indonesians," he said.
Anshorullah stated, the AWG is committed to continuing to participate in fighting for the independence of the Palestinian people and the liberation of the Aqsa Mosque.
"The AWG is very grateful to and appreciates Indonesian people, volunteers, and institutions that have worked hard for this event. May Allah Almighty record it as a good deed and reward for all of you. Aamiin," he said.
Palestinian Ambassador to Indonesia Zuhair Al-Shun ensured that the donations would be immediately channeled to finance a number of humanitarian programs in Palestine.
"The donations will be channeled to Jerusalem and other Palestinian territories," Ambassador Al-Shun said.
The AWG's winter donation program is held annually towards the Palestinian winter months which last from November to January.
Although located in the Middle East region, Palestine has an extreme winter with temperature reaching 3 degrees Celsius.
Palestinians have to struggle with the fierce cold weather amid Israeli missiles which could be fires at any time.
The Palestine Solidarity Week is an annual event initiated by the Aqsa Working Group (AWG) in order to support the liberation of the Aqsa Mosque and the independence of Palestine.
The week's agenda also marks the UN call to set November 29 as the International Day of Solidarity for Palestine.
Under a theme 'Moving in Community to Free Al-Aqsa and Palestine', the AWG will also launch a book entitled 'Liberation of Al-Aqsa Mosque, the Obligation of All Muslims, a photo exhibition, and a Palestinian film roadshow.
The Aqsa Working Group was formed in order to accommodate and manage Indonesian Muslims' efforts to support Al-Aqsa Mosque and assist the struggle of the Palestinian people.
Reporting by Indonesia Window