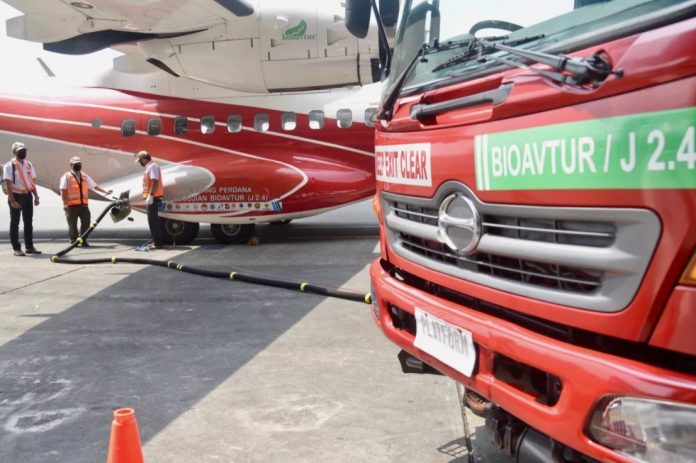 Jakarta (Indonesia Window) – With an estimated daily aviation fuel consumption in Indonesia of around 14,000 kilo liters, the market potential for the national-made bio-jet fuel named J2.4 would reach around 1.1 trillion rupiahs per year (some 77.1 million U.S. dollars).
Coordinating Minister for Economic Affairs Airlangga Hartarto made the statement virtually at the ceremony for the successful flight test of the CN235-200 FTB (Flying Test Bed) aircraft using the J2.4 bio-jet fuel on Tuesday (Oct. 6).
The aircraft manufactured by Indonesia's state-owned aerospace company PT Dirgantara Indonesia managed to fly from Bandung (West Java) to capital Jakarta along 23 miles (approximately 37 kilometers) in a straight line flight with J2.4.
"The success of this flight test has increased confidence that we are able to utilize domestic resources, especially palm oil, to build national energy independence," said Airlangga.
The bio-aviation fuel J2.4 is the result of a research synergy between Pertamina (Indonesia's state-owned oil and gas company) Research and Technology Innovation (RTI) and the Center for Catalysis Engineering of the Bandung Institute of Technology.
The research, which began in 2012, aims to develop a national-made catalyst to convert palm kernel oil into bio aviation fuel feedstock.
Referring to the Paris Agreement, which is a legally binding international agreement on climate change, the aviation sector is included in the global top 10 emitters of carbon dioxide. Carbon emissions from this sector are predicted to increase sharply in the middle of the 21st century.
Carbon dioxide emissions from the aviation sector are projected to account for 2.1 percent of the global contribution.
The international aviation sector under the International Civil Aviation Organization (ICAO) has issued an aspirational target of fuel efficiency of 2 percent per year until 2050, and is expected to achieve Carbon Neutral Growth from 2020.
Reporting by Indonesia Window