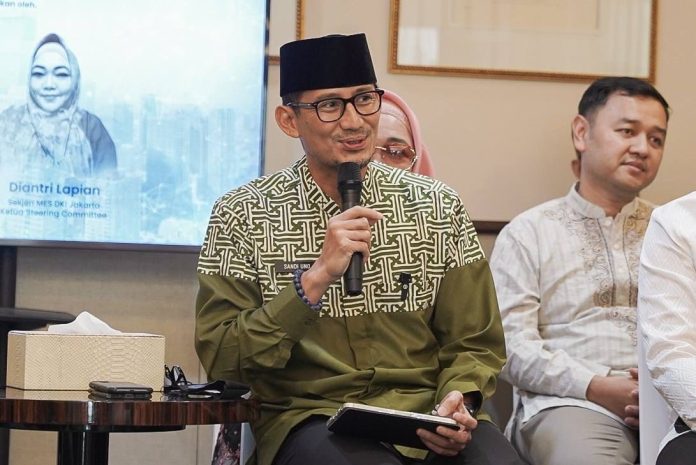 Muslim entrepreneurs should fully understand the Islamic economy and collaborate with MSMEs to create an Islamic economic ecosystem through digital platforms.
Jakarta (Indonesia Window) – Indonesia's Minister of Tourism and Creative Economy/Head of the Tourism and Creative Economy Agency, Sandiaga Salahuddin Uno, has encouraged MSME players and Muslim entrepreneurs to collaborate in order to create an Islamic economic ecosystem through digital platforms.
Sandiaga Uno also provided a number of tips so that younger people working in micro, small and medium enterprises (MSMEs) are motivated to increase global competitiveness through digital platforms, according to Indonesia's Ministry of Tourism and Creative Economy in a written statement quoted by Indonesia Window, on Sunday.
The minister made the remarks at the Jakarta Economic Study Series – MES (Sharia Economic Community) x Muslimtech Technology-Based Business Facilitation, here on Friday (April 14).
MES is a community organization that is expected to become a locomotive for the development of the Islamic economy in Indonesia and a driving force in efforts to strengthen community commitment in building an excellent and sustainable Islamic economic ecosystem.
"We support startups to promote MSMEs to be able to develop their businesses by transforming their companies into digital marketplaces," he said.
Sandiaga said that the ministry would also hold a simple program, such as a program aiming at motivating people to be proud in using made-in-Indonesia products, with the concept of training, mentoring and onboarding by industry players.
Currently, approximately 30 million MSMEs in Indonesia are on board and transformed into a digital ecosystem, Sandiaga noted, while continuing to encourage MSME players to become familiar with online marketing systems.
"The key is collaboration and collaboration. Apply these three steps, first involve the right people and those who want to get involved. Second, set goals and communicate your expectations. Third, listen to others and compromise," he said.
Meanwhile, Chairman of MES Jakarta Tito Maulana said that through collaborative efforts all parties would become strong, and as Muslim entrepreneurs they should fully understand sharia economics.
"This Muslimtech forum is for developing and collaborating on what they are trying to do, which is grounding and broadcasting Islamic values. God willing, in this month of Ramadan we will deliver virtuous Muslim entrepreneurs," he said.
Reporting by Indonesia Window