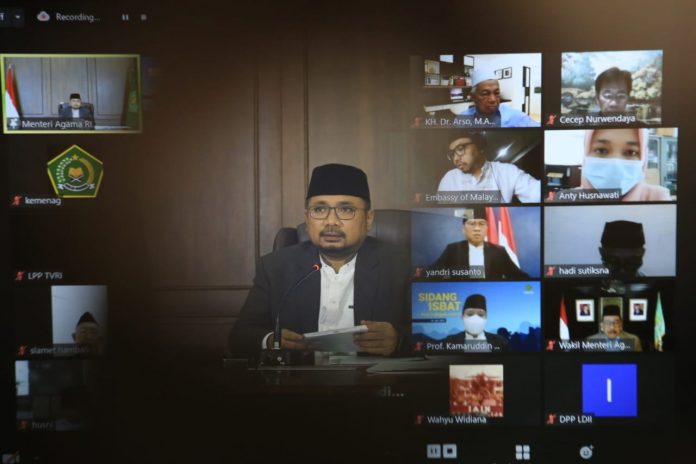 Jakarta (Indonesia Window) – The Indonesian government has declared that the beginning of Dhul Hijjah 1442 hijri fell on Sunday (July 11), so that Eid al-Adha will be celebrated on July 20, 2021.
The conclusion was made by Minister of Religion Yaqut Cholil Qoumas in a press statement after chairing an online meeting on Saturday (July 10) to determine the 1st Dhul Hijjah 1442 hijri.
"The height of the moon throughout Indonesia is at a position above the horizon, between 2 degrees 21 minutes to 4 degrees 14 minutes. In addition, there are reports of the new moon being seen or observed. So by consensus, 1 Dhul Hijjah 1442 hijri is set to fall on Sunday, July 11, 2021. And so Eid al-Adha will fall on July 20, 2021," he said.
The meeting which was chaired by the Minister of Religion was also attended ambassadors from several fellow countries, representatives of ministries/agencies, and representatives of Islamic organizations.
On that occasion, Yaqut Cholil also said, in order to welcome Eid al-Adha, the government has issued some circulars regarding guidelines on Eid prayers, sacrificial animal slaughter, and sacrificial meat distribution in areas where the emergency community activities restriction is being imposed.
"The sacrificial meat must be delivered to recipients. There should be no queues for the distribution of sacrificial meat like in previous years," the minister said.
He called on people to remain abide by the health protocols.
Reporting by Indonesia Window