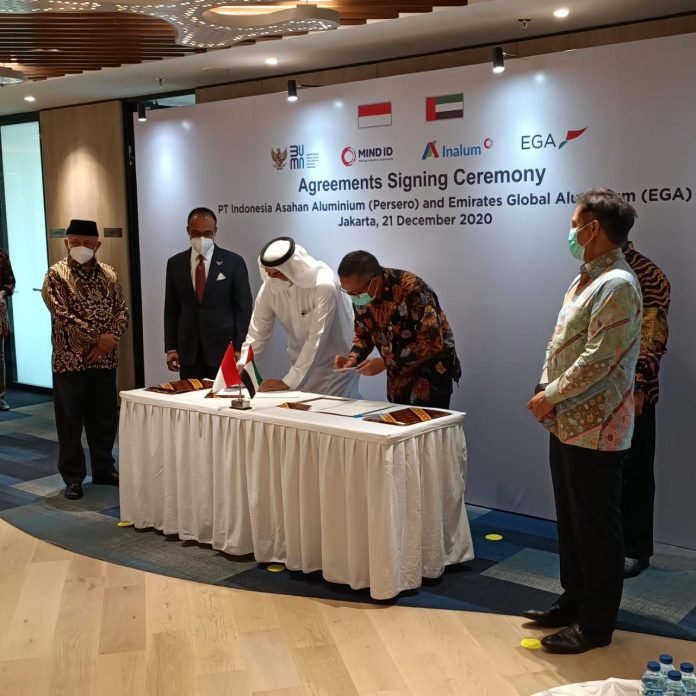 Jakarta (Indonesia Window) – An Indonesian state-owned company specialized in aluminium smelting, Indonesia Asahan Aluminum (also known as Inalum), and the largest aluminium producer in the United Arab Emirates (UAE), Emirates Global Aluminum (EGA), signed an agreement on aluminium refining technology, in Jakarta on Monday (Dec 21).
The contract contains a technology license for a pilot test for the optimization of Inalum's aluminium smelter furnace in North Sumatra province's district of Batu Bara.
Indonesian Ambassador to the UAE Husin Bagis appreciated the steps taken by the two companies in building investment cooperation.
"The contract includes the EGA technology license and the placement (secondment) of EGA's personnel at Inalum," he said after the signing ceremony.
In addition, one of the projects that Inalum expects can be carried out through the strategic partnership with EGA is Smelter Grade Alumina Refinery (SGAR) in Mempawah district, West Kalimantan province.
"The total value of the project reaches 800 million U.S. dollars" Ambassador Husin noted.
The business agreement signed by Inalum and EGA is a follow-up to the meeting of Indonesian President Joko Widodo and Abu Dhabi Crown Prince Sheikh Mohamed bin Zayed Al Nahyan in Abu Dhabi in January 2020.
The signing of the agreement between Inalum and EGA is one of the events in the 2020 Indonesia-UEA Week organized by the Indonesian Embassy in Abu Dhabi from 15 to 21 December.
Apart from EGA, there were seven UAE companies participated in the event, namely Masdar, Abu Dhabi Holding, Taqa, Alfoah, FAB, and Silverpumps.
The 2020 Indonesia-UEA Week was started with the opening of the First Abu Dhabi Bank (FAB) representative office in Jakarta.
The other activities were the signing of the cooperation to send 1,000 Indonesian nurses to the UAE, the inauguration of Cirata floating solar power plant construction project in Purwakarta district (West Java), the signing of the partnership between Lulu Hypermarket with Indonesian Micro, Small and Medium Enterprises (MSMEs), as well as a number of business meetings.
Reporting by Indonesia Window