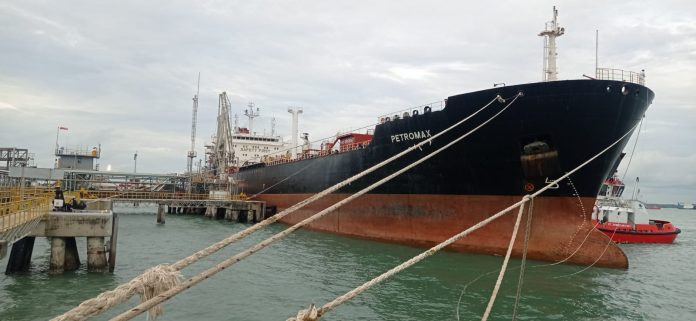 Jakarta (Indonesia Window) – Indonesia's state-owned oil and gas company Pertamina's engaged in transportation, Pertamina International Shipping (PIS), transported 150,000 barrels of crude oil using MT Petromax weighing 34,000 DWT (Dead Weight Tonnage) to Thailand on February 15, 2022.
The crude oil came from the Pangkah Block in Gresik district, East Java province managed by PT Saka Energi, to the Koh Sichang port terminal in Thailand.
"This oil export shipment is PIS' cooperation contract with TIS Petrolium as the buyer of oil from the Pangkah Block," PIS Operations Director Arief Risdianto said in a statement here on Thursday (Feb. 24).
MT Petromax is the first vessel used by PIS to ship oil exports by cooperation contract contractors or domestic oil producers.
Arief said the shipment of crude oil exports was a milestone for the company to be more aggressive in working on potential markets.
"The success of MT Petromax in transporting crude export cargo is a proof of our commitment in developing the transportation business, not only focusing on serving domestic crude and fuel transportation, but also trying to seize the transportation market abroad by prioritizing services excellence and safety first," he said.
Pertamina now operates at least 258 vessels, ranging from bulk lighter vessels with a capacity of 1,000 DWT to very large crude carrier vessels with a capacity of 300,000 DWT. These ships will continue to soar the Indonesian flag in the global arena and in international waters.
Reporting by Indonesia Window