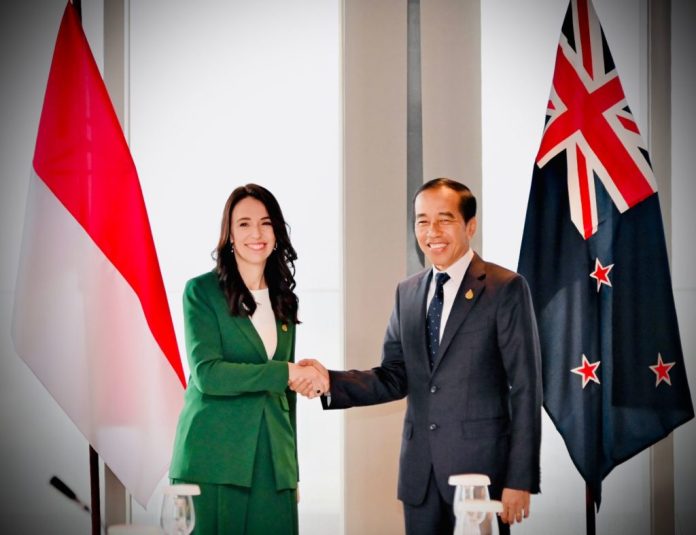 Cooperation in the Pacific becomes one of issues discussed by Indonesian President Joko Wiodo and New Zealand Prime Minister Jacinda Ardern on the sidelines of the APEC Summit in Bangkok, Thailand.
Jakarta (Indonesia Window) – Indonesian President Joko Widodo (Jokowi) and New Zealand Prime Minister Jacinda Ardern held a bilateral meeting at the Kimpton Maa-Lai Hotel, Bangkok, Friday, discussing cooperation in the Pacific.
In his introductory remarks at the meeting on the sidelines of the APEC Summit, President Joko Widodo expressed his hope that the spirit of the G20 Summit which just ended on Wednesday (Nov. 16) could continue at the APEC Summit this time.
"APEC must be part of efforts to accelerate economic recovery in the Asia and Pacific region," he said.
Cooperation in the Pacific is among other issues discussed in the bilateral meeting between the two leaders, that include efforts to strengthen cooperation on economy and energy transition.
"We need to encourage market access for trade between the two countries, especially in agricultural commodities, minerals, iron and steel, and plastics as well as cooperation in agriculture and certification of halal (permissible in the Islamic law)," the president added.
In the field of energy transition cooperation, the Indonesian head of state said the country continues to strengthen its energy transition efforts using new and renewable energy.
"I invite New Zealand businesspeople to invest in the development of geothermal energy in Indonesia," he said.
In the area of ​​regional cooperation, Indonesia was committed to promoting development cooperation in the Pacific, he said, adding that for this reason, next year, Indonesia will encourage the engagement of Pacific countries with ASEAN (the Association of Southeast Asian Nations).
"I want New Zealand to be able to become a bridge connecting the partnership between ASEAN and the Pacific in the Indo-Pacific region," he added.
Meanwhile, in her introduction, Prime Minister Jacinda expressed her appreciation to Indonesia for holding the G20 Summit in the resort island of Bali and congratulated the country on chairing ASEAN in 2023.
"New Zealand is ready to support Indonesia's leadership in ASEAN next year," Prime Minister Jacinda said.
Reporting by Indonesia Window