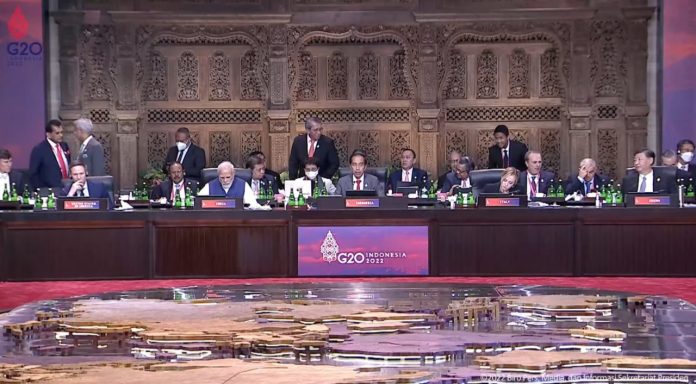 G20 Bali Leaders' Declaration has become the final result of the 17th G20 Summit, which is the first declaration that can be realized since February 2022.
Jakarta (Indonesia Window) – President Joko Widodo said that the G20 Summit in Bali, Indonesia, has produced G20 Bali Leaders' Declaration, which was the first declaration that can be realized since February 2022.
President Joko Wido made the remarks at a press conference after the closing of the Bali G20 Summit, 2022, which took place at the Apurva Kempinski Hotel, Badung district, Bali province, on Wednesday.
"The declaration, which was initially doubted by many parties, consists of 52 paragraphs and the paragraphs that were highly debated were those related to the stance towards the war in Ukraine," the head of state said.
The president explained that discussions about the war in Ukraine were very tough, and finally the G20 leaders agreed on the contents of the declaration, namely (among others) the condemnation of the war in Ukraine because it has been violating territorial boundaries and territorial integrity.
"This war has resulted in people's suffering and has exacerbated the global economy which is still fragile due to the pandemic, which poses a risk of a crisis, an energy crisis and a potential financial crisis," Widodo said.
Therefore, the G20 discussed the impact of the war on global economic conditions, and several concrete results were produced, such as the formation of a pandemic fund, which by the close of the 17th G20 Summit has collected 1.5 billion US dollars.
In addition, the G20 also achieved the establishment and operationalization of a resilience and sustainability trust under the IMF (International Monetary Fund) worth 81.6 billion US dollars to help countries face crises.
"Then also the energy transition mechanism. Indonesia obtained a commitment from the Just Energy Transition Program of 20 billion US dollars," the president noted.
The Indonesian president officially closed the series of the Indonesian G20 Presidency, on Wednesday, November 16, 2022, at the Apurva Kempinski Hotel, Bali.
In his closing speech, President Widodo emphasized that while holding the presidency, Indonesia has continued to seek the best solutions for the world to recover together and recover stronger.
On that occasion, the head of state also expressed his highest appreciation to all the leaders and delegates who were present and provided flexibility so that the declaration could be agreed upon and approved.
"I also want to express my highest appreciation to all working groups and engagement groups for their dedication, contribution, thoughts and contributions to the G20 Indonesia Presidency," he said.
Apart from the declaration, the Indonesian G20 Presidency also produced concrete deliverables which contained a list of cooperation projects for G20 member countries.
"This cooperation project will help bring the G20 closer to the people, ensuring that the G20 is beneficial, not only for its members but also for the world, and especially for developing countries. Let us recover together, recover stronger," he said.
Reporting by Indonesia Window