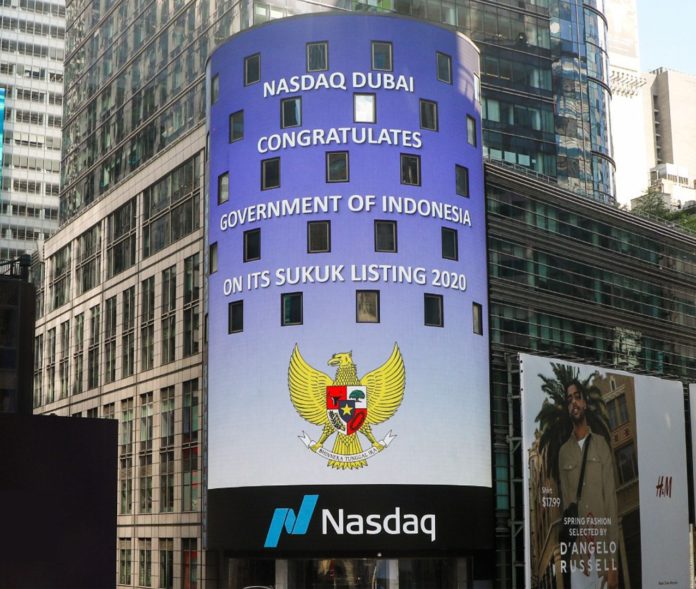 Jakarta (Indonesia Window) – Indonesia has registered three issuances of sukuk [securities (bonds) based on sharia principles] on Nasdaq Dubai worth 2.5 billion U.S. dollars, according to the United Arab Emirates' news agency.
The sukuk received extensive requests from local and international investors with a value reaching nearly 6.7 times of a subscription by the investors.
The sukuk list includes one issuance for a 10-year tenure worth 1 billion U.S. dollars and two other issuances each worth 750 million U.S. dollars in the first period of five years and the second of 30 years.
The sukuk will be allocated to finance economic and social development projects in Indonesia.
The 750 million U.S. dollars sukuk over the past five years is a green sukuk dedicated to sustainable development projects.
Indonesia currently so far has three green sukuk lists on the Nasdaq Dubai, and is the first country in the world issuing green bonds worth 1.25 billion U.S. dollars registered in March 2018.
Nasdaq Dubai Chairman Abdul Wahid Al-Fahim said Nasdaq Dubai is working to increase its support for the sukuk sector through effective communication at the local and international levels with publishers.
"At the moment we are preparing to receive new lists in the coming months that will benefit from our close relationship in the Islamic financial market," he said.
Meanwhile, Nasdaq Dubai Chief Executive (CEO) Hamid Ali explained that the history of long-term cooperation between financial markets in Dubai and Indonesia provided supports for the economic development in both countries and the growth of financial markets in harmony with the Islamic law in the world.
"In this context, our focus is on supporting and encouraging financial market activities in the sustainable sector, and we are very pleased to welcome the recent list of green sukuk by the Indonesian government along with other lists," Ali said.
The Nasdaq Dubai occupies the first position at the state and regional level in the environmental, social and government financing sectors, with green sukuk and bonds valued at 6.55 billion U.S. dollars (equivalent to 95.18 trillion rupiahs).
The UAE Stock Exchange emphasized its leadership role by attracting new green investment products in coordination with all relevant authorities and exporters.
The Indonesian government has the largest list of Islamic sukuk on the Nasdaq Dubai in terms of value and number of listings, with a total value of 17.5 billion US dollars (equivalent to 254.31 trillion rupiahs) and 14 listings, as well as the last three lists made by the Indonesian government on 23 June 2020.
The Indonesian green sukuk framework has received a medium green ranking based on Cicero Standards (independent international reviewers).
Reporting by Indonesia Window