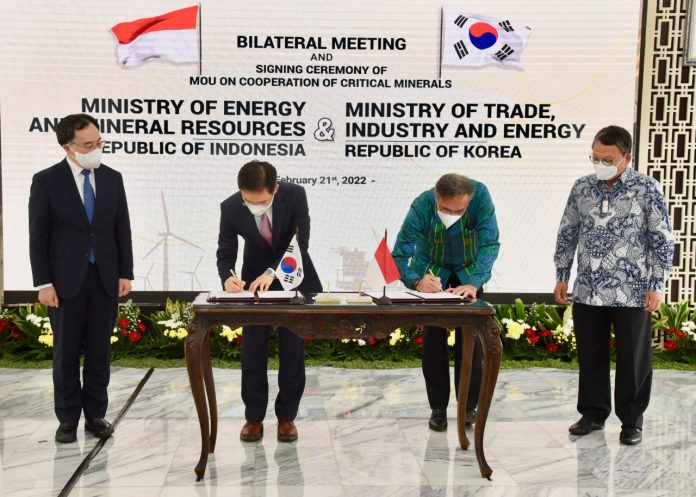 Jakarta (Indonesia Window) – The governments of Indonesia and South Korea have agreed to deepen bilateral cooperation by signing a memorandum of understanding (MoU) on critical minerals development.
"Through this MoU, the two countries can exchange information and human resources in the critical minerals sector and support project cooperation between private sectors of the two countries," Indonesian Minister of Energy and Mineral Resources Arifin Tasrif said before the signing of the MoU which was witnessed by Korean Minister of Trade, Industry and Energy Moon Sung Wook here on Monday (Feb. 21).
Critical minerals are metals and non-metals that are considered vital for the economic well-being of the world's major and emerging economies, yet whose supply may be at risk due to geological scarcity, geopolitical issues, trade policies or other factors.
Arifin stated that the cooperation was a follow-up to the Indonesia-Korea Energy Forum (IKEF) meeting.
According to him, since having a cooperation agreement in the field of energy and minerals signed in 2002, the two countries have established good relations at the government and private sector levels.
This Government to Government (G to G) cooperation was first initiated by Korea through the 12th IKEF meeting themed 'Cooperation in the Field of Mineral Resources'.
Earlier, bilateral cooperation in the mineral and coal sub-sectors was established between Indonesia and South Korea through the acid mine drainage sand treatment project in Indonesia's Kutai Kartanegara district, East Kalimantan province, during the 2014-2016 period with a value of 3.2 million U.S. dollars.
The two parties again signed a follow-up cooperation to support the mercury-contaminated soil remediation program in Kalimantan during the 2020-2025 period with a value of 4.6 million dollars.
Reporting by Indonesia Window