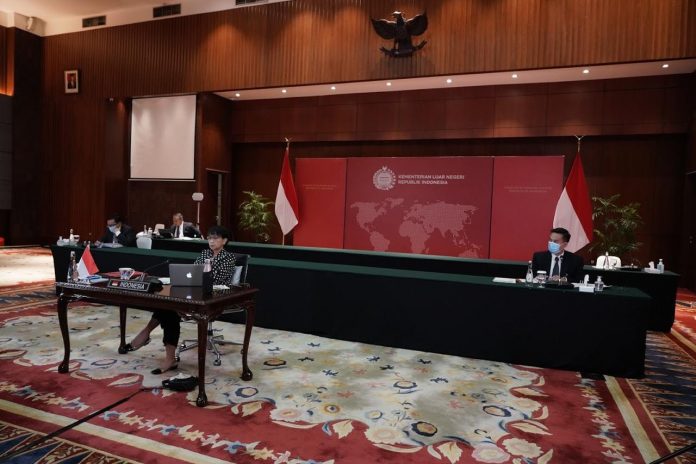 Jakarta (Indonesia Window) – The Indonesian Minister of Foreign Affairs has invited the G20 member countries to strengthen collective global leadership, especially in dealing with the impacts of the COVID-19 pandemic.
"During this crisis, the spirit of cooperation and collective global leadership needs to be strengthened so that the G20 can be a locomotive in dealing with the pandemic," Indonesian Foreign Minister Retno Marsudi stated at a virtual G20 Foreign Ministers' Extraordinary Meeting on Thursday (Sep 3), under theme Strengthening International Cooperation across Borders.
The meeting was held as a follow-up to the Extraordinary G20 Summit in March, aiming to strengthen cooperation in overcoming the impacts of the pandemic, especially related to cross-border cooperation.
The meeting was chaired by the G20 Presidency, the Kingdom of Saudi Arabia, and attended by the Secretary General of the United Nations, the Director General of the World Health Organization (WHO), the President of the World Bank Group, the Secretary General of the Organization for Economic Cooperation and Development (OECD), and the foreign ministers of the G20 member countries.
The Indonesian foreign minister said the G20 was established 21 years ago as was a response to the 1999 financial and economic crisis.
"With spirit of cooperation and collective leadership, G20 offered solutions to it," she added.
Although the current crisis is quite different as it is caused by the COVID-19 pandemic that has deep impacts on global health and world economy, the G20 is expected to work together and be part of the solution.
The G20 group consists of 19 largest economies in the world and the European Union.
Indonesia will become the president of the G20 forum in 2023.
Reporting by Indonesia Window