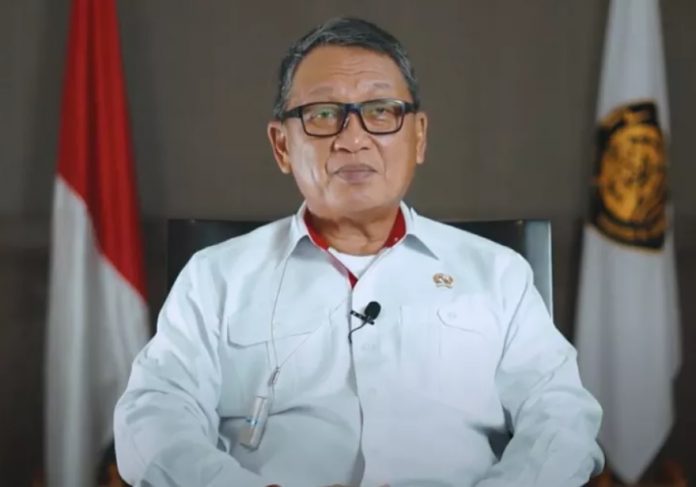 Jakarta (Indonesia Window) – A research report in 2004 showed that Indonesia has potential reserves of methane hydrate with an estimated volume of more than 850 trillion cubic feet (Tcf).
"This amount is equivalent to eight times the current natural gas reserves, so we hope that this new alternative energy resource will support the national energy resilience," Indonesian Minister of Energy and Mineral Resources Arifin Tasrif said at an online meeting on Legal and Policy Framework for the Development of Offshore Methane Hydrate as Indonesia's Future Transitional Clean Energy on Tuesday (June 8).
Methane hydrates are formed when hydrogen bonded water and methane gas come into contact at high pressure and low temperature in the ocean.
By lowering the pressure or raising the temperature, the hydrate simply decomposes into water and methane. One cubic meter of this compound releases about 160 cubic meters of gas, making it a very intensive fuel.
The development of methane hydrate is a cleaner energy source compared to oil and coal. Extraction and production of methane hydrate gas can become a source of state revenue and play a role in the energy mix.
Minister Arifin emphasized the importance of an integrated legal and policy analysis to ensure that the development of methane hydrate remains in line with the principles of sustainable development.
"Methane hydrate development should be carried out by considering the physical characteristics of gas hydrate, environmental issues, methane hydrate extraction technology, as well as the economic value and capability of the national upstream oil and gas industry," he said.
Seeing the urgency of utilizing methane hydrate gas, Arifin stressed the need to strengthen multi-sectoral cooperation in boosting the energy transition process.
"For this reason, we really hope for the support of stakeholders, academics, and other stakeholders in achieving energy transition goals, including the potential for using methane hydrate gas to support the national energy resilience while achieving the target of reducing greenhouse gas emissions," he added.
Reporting by Indonesia Window