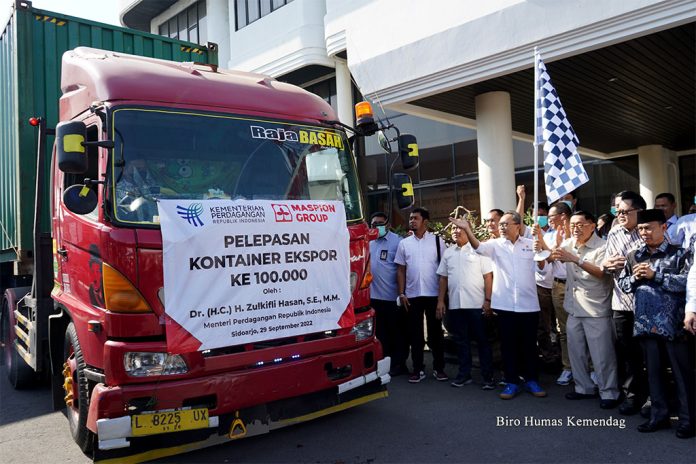 Indonesian aluminum products that have been in high demands on the global export market are extruded aluminum, which can be used as building materials, aluminum ladders, printer components, and solar panel frames.
Jakarta (Indonesia Window) – The Indonesian Minister of Trade, Zulkifli Hasan, saw off 22 containers of aluminum products made by PT Maspion Group, worth 1.2 million U.S. dollars to six countries, in Surabaya, East Java, Thursday.
On the occasion, Minister Zulkifli invited business actors to take advantage of Indonesia's trade agreements with partner countries, the Ministry of Trade said in a written statement.
According to the minister, the Indonesian government, especially the Ministry of Trade, has tried to open new markets as a destination for exporting the country's products.
"We have built 'a toll road' so that it is easy to export to Indonesia's trading partner countries. We are doing this effort to help business actors penetrate the world market," the trade minister said.
The release of aluminum exports by PT Maspion Group this time coincided with the achievement of the export of 100,000 containers of various Maspion products to the global market.
The number 1 container released today brought Maspion's exports to 100,000 containers. This means, until today's container number 22, Maspion has released 100,021 containers to the global market.
The minister appreciated Maspion as one of the business actors that not only supply the local but international market.
"We appreciate Maspion as a labor-intensive industry that not only produces to supply the local market, but is also export-oriented," he said.
The achievement of national trade performance is inseparable from the role of Indonesian business actors who continue to export to trading partner countries, and therefore, the government must support strategic efforts through regulations that can boost export performance, he added.
This time, the minister released aluminum products in the forms of extruded aluminum, aluminum ladders, and aluminum foil with destination countries of the United States, Australia, England, New Zealand, Belgium, and Vietnam.
The release of the export of aluminum products shows Indonesia's progress in the aluminum industry, he said, adding that now there is a lot of demands for extruded aluminum which can be used as building materials, aluminum ladders, printer components, to solar panel frames.
In 2021, Indonesia was in the 24th position as an extruded aluminum exporter with a market share of 1.02 percent. In that year, the export value of the country's aluminum extrusions was recorded at 212.77 million dollars or grew 39.91 percent compared to that in 2020 which reached 152.08 million dollars.
In the January–July 2022 period, Indonesia's exports of aluminum extruded products grew significantly by 26.97 percent compared to the same period in the previous year.
Several export destinations for Indonesia's aluminum extrusions also experienced significant growth.
In the January–July 2022 period, five countries with significant increases compared to the same period in the previous year were Germany, which rose 4,343.00 percent, Italy (1,407.50 percent), Spain (236.26 percent), England (171.28 percent), and Australia (81.53 percent).
"This shows that the export performance of Indonesia's aluminum extrusions to the world continues to increase in value and is able to take advantage of world market opportunities," the minister noted.
Reporting by Indonesia Window