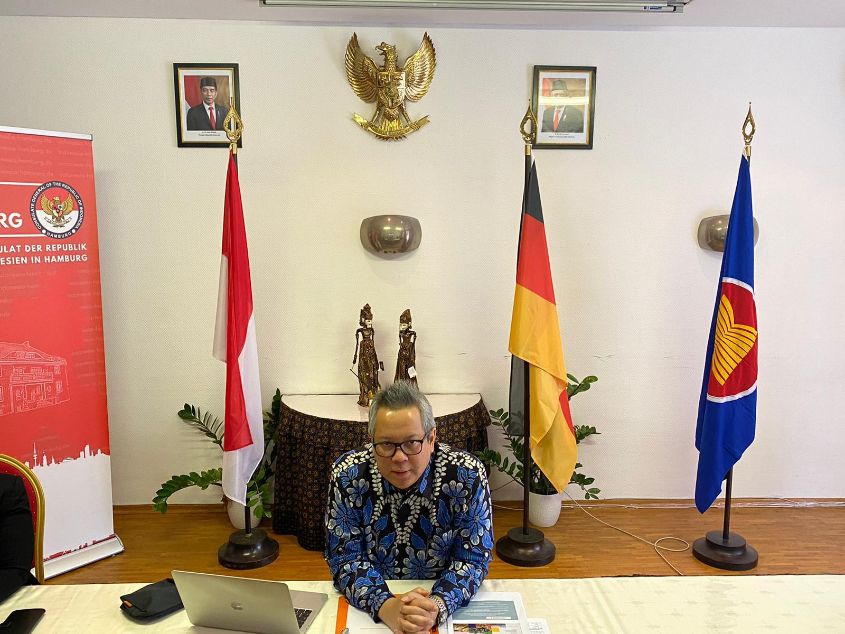 Jakarta (Indonesia Window) – The administration of the Hamburg city in Germany is interested to cooperate with Indonesia in the fields of seaports, maritime industry, new and renewable energy as well as startup developments.
That was revealed at a virtual meeting between Indonesian Consul General in Hamburg Ardian Wicaksono with Head of the Foreign Trade Division, Ministry of Economy and Innovation of the State of Hamburg, Kolja Harders' on Tuesday (Feb. 16).
During the meeting, Consul General Ardian talked about developments in Indonesia regarding the COVID-19 pandemic mitigation, Indonesia-Hamburg trade relations, potential investments, special economic zones, startups, and seaport cooperation.
Consul General Ardian and Harders agreed that the two parties had to take focused and actual steps to improve the existing good relations.
Harders said that the cooperation could be started in the developments of seaports, maritime industry, logistics digitization, renewable energy (hydrogen fuel), and startups.
According to Harders, who visited Indonesia in 2019, those five areas are very potential and expected to bring multiplier effects to other industrial sectors.
Cooperation with other states in northern Germany such as Bremen, Niedersachsen and Schleswig-Holstein which borders the sea is also essential because they are connected to each other so as to expand the scope of collaboration.
"In order to reduce emissions, hydrogen is needed in Hamburg. That is why we need to import hydrogen from other sources, including Indonesia," Harders said.
Consul General Ardian and Harders agreed to follow up the meeting with a project linking related institutions in Indonesia and Hamburg.
The consul general also promoted Indonesia as a partner country at the Hannover Messe 2021 exhibition which will be held digitally on April 12-16, 2021.
Reporting by Indonesia Window