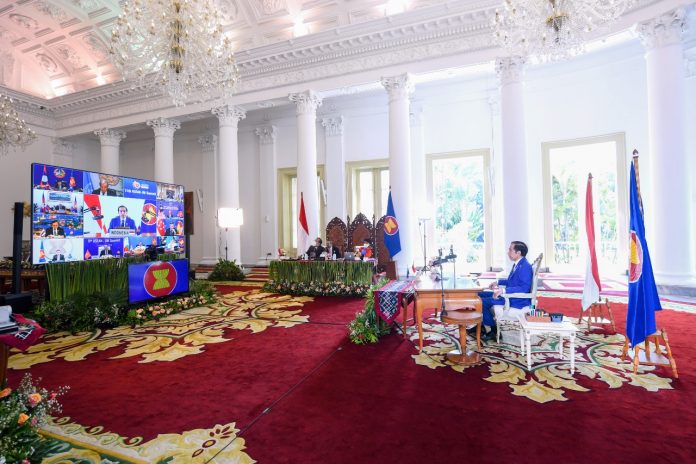 Bogor, West Java (Indonesia Window) – Indonesian President Joko Widodo (locally known as Jokowi) asked the United Nations to play a role in ensuring fair and equitable access to COVID-19 medicines and vaccines for people around the world.
The head of stated delivered the statement during a speech at the 11th ASEAN-UN Summit which was held virtually on Sunday.
In the long term, the United Nations and ASEAN can collaborate to ensure preparedness in the face of a possible new pandemic in the future, he added.
"In Southeast Asia, learning from this pandemic, we are trying to build regional systems and mechanisms such as the ASEAN Response Fund for COVID-19, the ASEAN Regional Reserve of Medical Supplies, the ASEAN Comprehensive Recovery Framework, the ASEAN Framework on Public Health Emergencies, and the ASEAN Travel Corridor Arrangement Framework," RI's President said from the Bogor Presidential Palace in West Java.
On that occasion President Jokowi also asked the U.N. to reconfirm multilateralism.
"The U.N. should restore its faith in multilateralism. Our trust will grow if multilateralism can meet the expectations of the world community, especially in fighting the pandemic," he said.
He also urged the United Nations to maintain diversity and tolerance, while expressing his concern over the re-occurrence of religious intolerance and violence in the name of religion.
"If these remain, they would damage harmony and foster radicalism and extremism. These should not happen," he said.
According to the president, today the world needs unity, brotherhood and cooperation to overcome COVID-19 and other global challenges.
Indonesia is of the view that freedom of expression is not absolute. Religious values, symbols and sensitivities should always be respected.
"At the same time, Indonesia condemns all forms of violence for any reason. Terrorism has nothing to do with religion. Terrorism is terrorism," he stressed.
President Jokowi invited the U.N. Secretary General to encourage the world to continue working together to strengthen tolerance, prevent hate speech, and reject violence for any reason.
"Diversity, tolerance and solidarity are solid foundations for a peaceful, safe and stable world," the president said.
Reporting by Indonesia Window