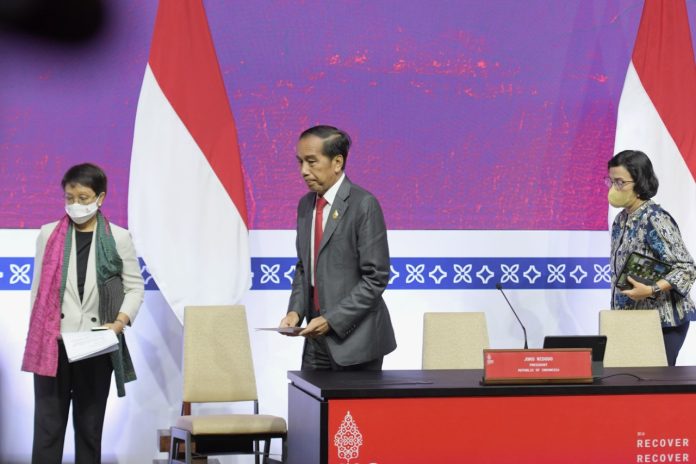 'Heroine duo' Sri Mulyani and Retno Marsudi and other stakeholders in the Indonesian cabinet have worked extra hard for about a year to make the G20 event a success amid increasing world geopolitical tensions.
Jakarta (Indonesia Window) – Minister of Finance Sri Mulyani Indrawati and Minister of Foreign Affairs Retno Marsudi, 'heroine duo', were seen hugging after Indonesian President Joko Widodo officially handed over the G20 presidency of Indonesia to India, which marked the end of the Group of 20 Summit.
The G20 is a major forum for international economic cooperation whose members are the countries with the largest economies in the world consisting of 19 countries and one European Union institution.
'Heroine duo' of the two ministers and other stakeholders in the Indonesian cabinet have worked extra hard for about a year to make the G20 event a success amid increasing world geopolitical tensions, the Indonesian Cabinet Secretariat said in a written statement received here on Sunday.
"Alhamdulillah (thank God), we have just completed the G20 Summit, two days in a row, and earlier the president closed it by producing a declaration from the G20 leaders (the G20 Bali Leaders' Declaration)," Minister Sri Mulyani said.
This is an extraordinary achievement because the declaration means that there is agreement from all the G20 leaders, Sri Mulyani said on her personal Instagram account @smindrawati, which was uploaded Wednesday (Nov.16).
Meanwhile, Minister of Foreign Affairs Retno Marsudi also expressed gratitude for the holding of the series of G20 meetings under the Indonesian presidency.
"Thank God, in the midst of all the challenges, (and) all the very sharp differences at the event, not a single G20 activity should be canceled this year," Retno said, while talking at Podkabs (the podcast of the Indonesian Cabinet Secretariat) which airs on the Cabinet Secretariat's YouTube channel.
In the Indonesian G20 Presidency, as Minister of Finance, Sri Mulyani played a major role in the finance track while as Minister of Foreign Affairs, Retno Marsudi supervised the Sherpa track.
"The G20 has a finance track. There is a Sherpa track that is more concerned with the overall economy and development, and we are the administrators of each of these tracks. The Minister of Finance is of course on the financial track, while I am on the Sherpa track," said Retno.
Retno said that as colleagues and friends, she and Sri Mulyani often discussed the preparation and progress of the Indonesian G20 Presidency.
"(Discussing) how far (the progress is), what needs to be strengthened, what and this, and so on. But, because we are old friends, the communication is better," the foreign minister said.
Retno further said that her friendship with Sri Mulyani began when they were both studying at State Senior High School (SMA) 3 in Semarang city, Central Java province.
"We've been friends. Now (year) 2022, we are friends from (year) 1979. We went to high school together, then Ani, Mrs. SMI (Sri Mulyani Indrawati), Mrs. Minister of Finance, I called her Ani, went to UI (University of Indonesia). I went to Gadjah Mada University (UGM)," she said.
Before helping President Joko Widodo (Jokowi) together in the government cabinet, 'heroine duo' also often met in the midst of their respective activities.
Retno also shared the moment when Sri Mulyani, who was still working at the World Bank at that time, invited her to eat together.
"She came to the Netherlands. I am the ambassador to the Netherlands. So suddenly I got WA (WhatsApp) from her. She said, 'Ret, let's eat!' Then, I came to her hotel. Then, we walked from her hotel. We were looking for food together," the foreign minister recalled.
Both Retno Marsudi and Sri Mulyani also often shared their friendship moments on their personal Instagram accounts. One of them was when Retno attended a traditional ceremony for Sri Mulyani's youngest son, Luqman Indra Pambudi Sumartono last July.
"I couldn't attend the wedding because I had to go abroad, so I really waited until I accompanied Ani at a showering ceremony (a traditional event as part of the process of wedding ceremony). After that, I departed," Retno said.
Not only Retno, Sri Mulyani also shared a long story of their friendship at the Podkabs. Sri Mulyani revealed that although they were in the same high school, they chose different majors.
"In high school, I have a lot of activities, (and) Retno also has a lot of activities. She went to Scouts, and I was active in a student council. I used to be a student council president, I was active in an heirloom flag hoist, and other things, sports, a school volleyball team, I was involved in karate," Sri Mulyani recollected.
At Podkabs, Sri Mulyani said she was happy when she learned that she and Retno Marsudi were asked by President Jokowi to join the government cabinet together.
"When I was called home by President Jokowi again to join, and I knew that my friend Retno was there. We became even closer. It's nice, isn't it rare that one cabinet comes from the same high school, so we feel that we have a special relationship and it's really good, chatting with Retno is nice," Sri Mulyani said.
Reporting by Indonesia Window