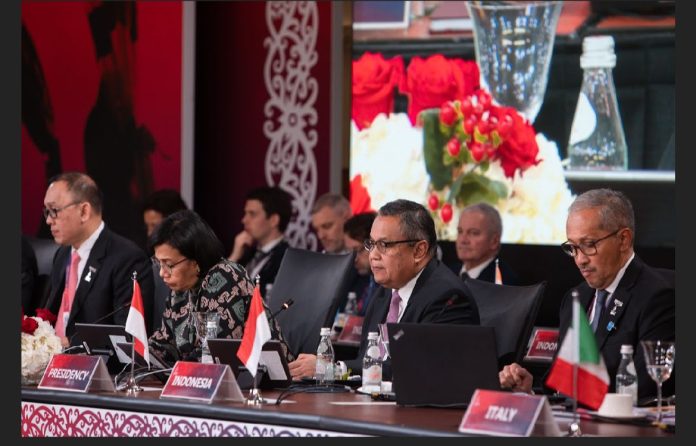 Jakarta (Indonesia Window) – The G20 finance ministers and central bank governors reaffirmed their commitment at their last meeting under Indonesia's G20 Presidency to solve rising global economic challenges and focus on concrete results.
The fourth meeting this year taking place in Washington D.C., on Oct. 12-13, 2022, was held in coincidence with the 2022 Annual Meetings of the International Monetary Fund (IMF) and the World Bank Group.
The meeting was chaired by Indonesia's Finance Minister Sri Mulyani Indrawati and Bank Indonesia Governor (BI) Perry Warjiyo, the central bank (BI) said in an official statement on Friday (Oct. 14).
The Indonesian G20 presidency continues to strive to maintain the spirit and effectiveness of the G20.
At the closing meeting of the financial affairs, the G20 Presidency of Indonesia has produced concrete and impactful actions as outlined in the conclusions of the G20 Minister of Finance and Governors of the Central Bank (FMCBG).
In her remarks, Minister of Finance Sri Mulyani Indrawati said, during the presidency, Indonesia had been serious about making the G20 discussions run smoothly, and expressed high appreciation for the strong support from all members.
"We have to keep moving forward – we need to produce concrete actions by showing a spirit of cooperation, collaboration and consensus. Historically, the G20 has recorded our ability to go through all of this," Sri Mulyani said.
Governor of Bank Indonesia Perry Warjiyo also expressed his appreciation to the members, stating that, since the beginning of the presidency, the G20 has worked together to raise critical global issues and has been able to give concrete and collective solutions to promote recovery.
Among these challenges is the global economy with various shocks, including higher-than-expected inflation, tighter financial conditions, the war between Russia and Ukraine, the protracted COVID-19 pandemic, and a supply-demand mismatch that is further slowing the global economic outlook.
In addition, extreme weather conditions due to climate change pose a risk of deteriorating global economic prospects, and rising energy prices are also hindering the path to a green transition.
Prolonged global challenges have led to increased debt vulnerability and hindered the road to recovery, which in turn has an impact on vulnerable groups of people, especially in low-income and developing countries.
The G20 FMCBG meeting in October was attended in person by 66 leaders and only four people attended virtually since the pandemic.
Overall, the meeting was attended by 371 delegates, consisting of 304 people attending in person and 67 people attending virtually.
In addition, the G20 Presidency of Indonesia has extended its third invitation to the Ukrainian finance minister at the meeting, during the presidency.
G20 finance ministers and central bank governors discussed six agendas, namely, the global economy, international financial architecture, financial sector regulation, infrastructure investment, sustainable finance, and sustainable taxation.
Reporting by Indonesia Window