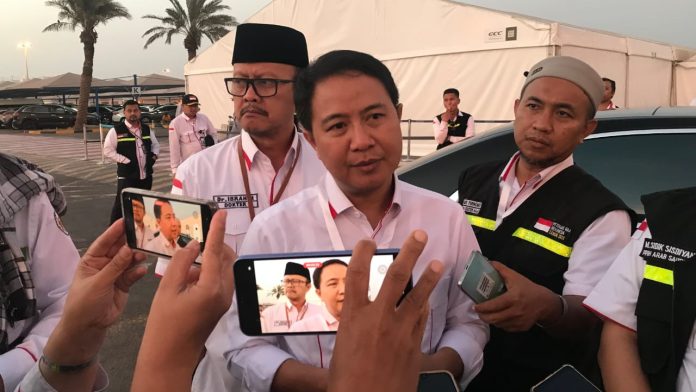 Hajj pilgrims must receive fast services from Mashariq (a hajj and umrah service company in Mecca) as the company is responsible for the matter.
Jakarta (Indonesia Window) – The Director General of Hajj and Umrah Affairs of the Ministry of Religion, Hilman Latief, regretted the slow services of the Mashariq (a hajj and umrah service company in Makkah) for hajj pilgrims in Muzdalifah and Mina.
"We have conveyed our strong protest to the Mashariq regarding the problems that occurred in Muzdalifah. We also asked that there be no problems in the provision of services in Mina," Hilman said in Mina, Wednesday (June 28).
"We will continue to oversee this, so that the Mashariq moves faster in preparing services for hajj pilgrims," he said in a written statement as quoted by Indonesia Window, Thursday.
The strong protest to the Mashariq was sent because it was the company's responsibility to provide services in Arafah – Muzdalifah – Mina (Armina), Hilman added.
"So in Armina, the Mashariq fully provides services. Therefore, we ask that all the rights of Indonesian pilgrims be given well," he asserted.
Hilman asked the Mashariq to make quick decisions in anticipating any potential problems that might arise, so that the existing potentials could be resolved immediately and would not harm the pilgrims.
"The Mashariq certainly knows that Indonesia has the largest number of hajj pilgrims. There should be a more comprehensive and fast mitigation scheme," he explained.
Hilman however acknowledged that the space available in Mina for pilgrims is very limited. Each pilgrim only gets space in the range of 0.8 m2. Such a condition occurs every year, since tens of years ago.
"In fact, the scholar's ijtihad in determining Mina Jadid is a proof that the narrow space in Mina has been felt and has been a discourse for a long time," Hilman noted.
The process of departing the pilgrims from Muzdalifah to Mina was delayed. Now, consumption services in Mina are also not distributed properly and smoothly. Another issue is that the availability of mattresses does not fit the number of pilgrims.
Editing by Indonesia Window