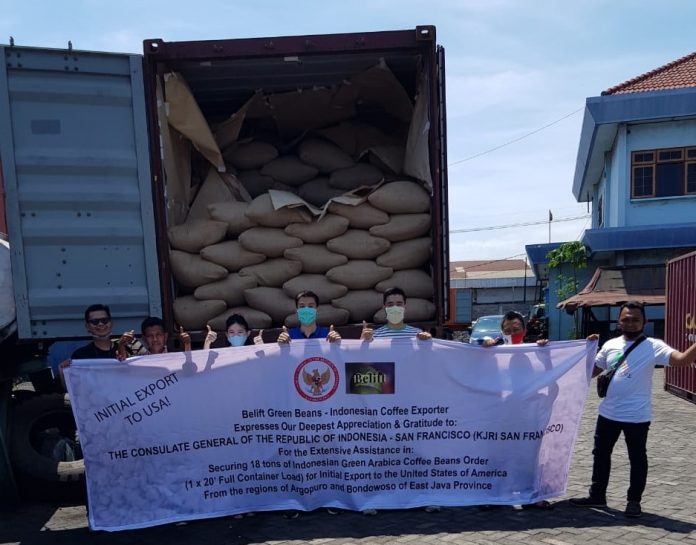 Jakarta (Indonesia Window) – An Indonesian startup operating in San Francisco, Belift Green Beans, sent a container of arabica green coffee beans from East Java and arrived in the San Francisco (SF) Bay Area, the U.S., on December 23, 2020.
The container contained 300 sacks of coffee with a total weight of 18 tons, which are stored in a specialty coffee warehouse in the SF Bay Area, according to a written statement from the Indonesian Consulate General in San Francisco received by Indonesia Window here on Monday.
A Belift Green Beans co-founder, Ivan Hartanto, expressed his joy at the success of his company in exporting green beans for the first time with a transaction value of more than 100,000 U.S. dollars.
"I am very happy that at the end of this year we have succeeded in bringing Indonesian specialty coffee to the United States, and helped more than 500 coffee farmers. We hope we can further increase exports in the coming years, after the pandemic ends, so that Indonesian arabica coffee can dominate the U.S. market," Ivan said.
The specialty coffee was purchased by a U.S. importer, and will be marketed to coffee businesses, including roasters and cafe owners across the country.
Economic Consul Nugroho Y Aribhimo expressed his support and hoped that the first container shipments by Belift Green Beans would continue with increasing amounts.
The Indonesian Consulate General in San Francisco also supports the Indonesian diasporas who are involved in the coffee business as they could help advance the Indonesian economy.
Coffee is one of Indonesia's leading export commodities to the U.S.
From January to October 2020, the export value of Indonesian coffee to the U.S. reached 202.64 million U.S. dollars.
Of that amount, 65.78 million U.S. dollars or 32.46 percent entered via the ports of San Francisco (California), Seattle (Washington), and Columbia-Snake (Oregon), which are the working areas of the Indonesian Consulate General in San Francisco.
Reporting by Indonesia Window