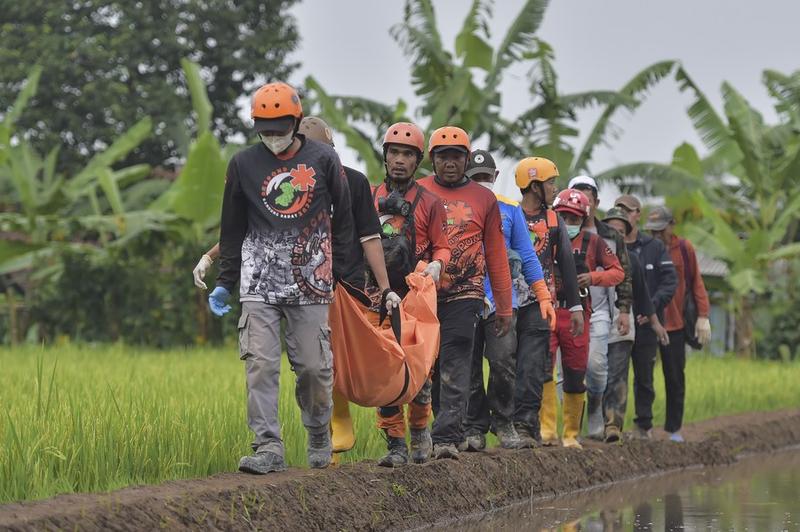 Death toll from Cianjur earthquake increased to 272 and 39 are still missing until the 4th day after the disaster.
Bogor, W Java (Indonesia Window) – The death toll from the Cianjur earthquake has increased to 272 and 39 are still missing, the Head of Indonesia's National Agency for Disaster Countermeasure (BNPB), Suharyanto, has said.
Suhariyanto emphasized that 39 are still missing, consisting of 32 who are residents of Cijendil village in Cugenang sub district, and seven who were those passing through the area, Suharyanto said, when giving a press statement, in Cianjur, Thursday.
The names and families of the missing people have been identified to make it easier for search to be carried out by 6,000 personnel of a SAR team, he said.
The search and rescue process is difficult due to the rugged terrain, rains and landslides, as well as collapsed houses and buildings. "However, we hope we could find the missing victims," ​​ Suharyanto said, while informing that 2,046 people are injured and 62,545 residents are displaced.
"We urge people whose family members are missing to report to the command posts, so that their names, addresses, characteristics, ages and sex would become clear," the head of BNPB said.
He added that data are very important because of the 272 bodies found, 107 of them could not be identified clearly.
Suharyanto also asked for helps from people whose family members are missing to send their data soon, and from those whose family members have died to immediately send death certificates issued by local health facilities.
"I hope the village heads can help, because this is for compensation or life insurance beneficiaries," he said, while emphasizing that the death certificates are really needed by heirs or family members who survived the disaster.
In addition, Suharyanto pointed out that reports from village heads mentioned that 56,311 houses were damaged. Of that number, 22,267 houses were categorized as severely damaged, 11,836 moderately damaged, and 22,208 lightly damaged.
"The data will still be verified according to criteria set by the Ministry of Public Works and Public Housing. The number may change," Suharyanto said.
"After being verified, we will build them (the houses) immediately, so that people could move soon and not stay in evacuation shelters for long," he added.
Meanwhile, the number of damaged infrastructures was recorded at 31 schools, 124 places of worship, three health facilities, and 13 government offices, spread across 15 districts affected by the earthquake.
Search and rescue process
As of Thursday, Suharyanto said, the search and rescue team found one victim, named Ninging, aged 64.
"Meanwhile, the distribution of logistics has gone better, because officials from all sub-districts have been able to collect logistics, then distribute them to villages, then to evacuation sites," the head of BNPB said.
He explained that village heads could provide a list of logistical needs to officials, so that they could be collected at 9 a.m. (at the latest) and immediately distribute them to the affected people.
"The logistics distribution process is carried out down to the smallest administrative level, namely from community administrative heads, village heads, sub-district heads to district heads," Suharyanto said.
He also explained that every day the agency holds meetings with sub-district heads and village heads to discuss all activities, and ensure that logistics distribution run well.
"So far there have been many mass organizations, business entities and volunteers who have been helping. There are 333 organizations, and 4,674 volunteers who have been consolidated and assigned to SAR activities, logistics distribution and refugees handling, as well as data collection on houses for rebuilding measures," the head of BNPB said.
Reporting by Indonesia Window