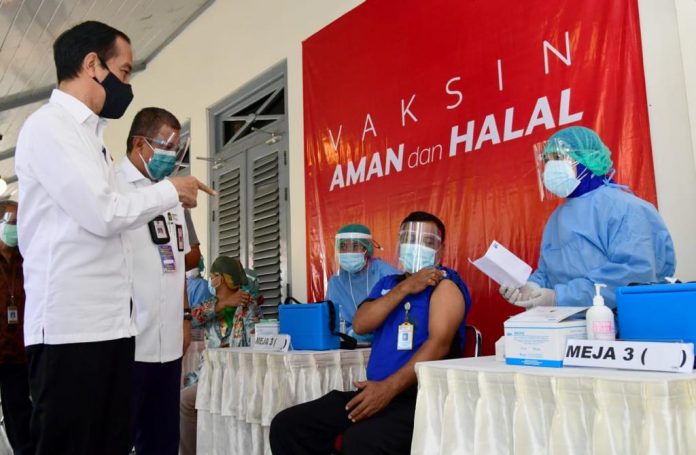 Jakarta (Indonesia Window) – The COVID-19 vaccination in Indonesia reached the target of 1.31 million doses per day on Saturday (June 26), said Health Minister Budi Gunadi Sadikin.
"A glimmer of good news, Indonesia succeeded in carrying out 1.3 million doses of vaccinations per day which was accomplished yesterday. Thank you to the TNI/Polri (the Indonesian Armed Forces and the Indonesian Police), the local administrations, SOEs and private parties that have helped realize the target," he said in a written statement received here on Sunday.
The minister said that that the accomplishment was earlier than the target time set by President Joko Widodo in early July 2021.
The target was achieved due to optimal efforts and mutual cooperation of all related parties, including the operation of 1 million doses of vaccinations which was held simultaneously throughout Indonesia by the Indonesian Armed Forces and the Indonesian Police, said Budi.
"Vaccination is one of the important efforts in curbing the spread of the coronavirus, reducing the spike in cases and bringing us out of the pandemic. One of the government's strategies is to seek the availability of vaccines and accelerate the vaccination rate, so that more people are protected," he said.
As of June 26, 2021, the first doses of vaccination have been inoculated to more than 27 million Indonesians. Meanwhile, more than 13 million people in the country have received the second doses.
The Ministry of Health continues efforts to accelerate the vaccination process, one of which is by opening mass vaccinations in collaboration with all parties.
The ministry has also issued a circular instructing all vaccination services under the Ministry of Health throughout the country to vaccinate people without residential requirement according to their ID cards.
Budi said the government also continues to seek the availability of vaccines through multilateral and bilateral schemes in order to maintain the vaccination rate at least 1 million doses daily.
Reporting by Indonesia Window