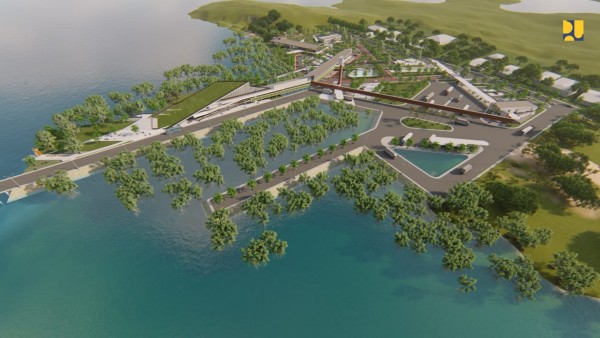 Jakarta (Indonesia Window) – The construction of Sei Pancang integrated cross-border post on the border between Indonesia and Malaysia in the former's North Kalimantan province is targeted for completion in December 2021.
The border post, which is located in North Sebatik sub district, is expected to become the center of economic activity in Indonesia's frontier, outermost, and underdeveloped areas in Nunukan district.
"Not only does the integrated cross-border post serves as an entry gate, but also an embryo of a regional economic growth center that is expected to develop the welfare of people at the border areas," Minister of Public Works and Public Housing Basuki Hadimuljono said Tuesday (July 6).
The construction of the border post, which began on Feb. 24, 2020, has now reached 52.51 percent with a financial absorption of 56.70 percent of the initial construction contract value of 226.18 billion rupiahs (some 15.5 million U.S. dollars).
The Sei Pancang integrated cross-border post is built on an area of ​​68,169 square meters.
The construction is divided into a core zone and a supporting zone, consisting of the main building, employee guesthouse, and Wisma Indonesia.
To support the post's operations, ticketing and corridors facilities, towers, waste processing facilities, bridges, plazas, roads and pedestrians, as well as fences are also built.
The Sei Pancang integrated cross-border post is built with the concept of green infrastructure that applies landscape arrangement, tree and grass planting, as well as a roof garden for high-rise buildings.
The integrated cross-border post location can be accessed by a speed boat from North Kalimantan province's capital city of Tarakan, for about three hours.
Sei Pancang is one of four integrated cross-border posts built by the ministry in North Kalimantan.
The other three posts are Long Midang and Labang in Nunukan district, and Long Nawang in Malinau district.
Reporting by Indonesia Window