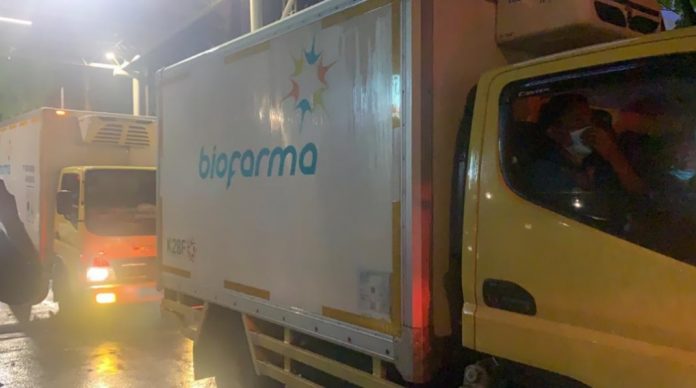 Jakarta (Indonesia Window) – The Indonesian state-owned vaccine producer Bio Farma has distributed 102.1 million doses of vaccine against the novel coronavirus as of Monday (Aug. 9), according to a written statement received here, Monday (Aug. 9).
The vaccines that have been distributed consist of three million doses of CoronaVac; 81.4 million doses of COVID-19 vaccines from Bio Farma; 14.7 million doses of AstraZeneca vaccine from the COVAX Facility, bilateral cooperation scheme and donation; and three million doses of Moderna vaccine.
Currently, Bio Farma still has stock of 5.8 million doses of vaccines that are ready to be distributed. This number will increase with the 12.9 million of Bio Farma COVID-19 products which will be launched until the end of August 2021.
The distribution of vaccines by Bio Farma to the district/city level is based on the allocation and request from the Indonesian Ministry of Health.
In the process of vaccine distribution, Bio Farma continuously pays attention to the availability of vaccines, or vaccines that have received lot releases from the National Agency of Drug and Food Control.
Lot release is a condition from the World Health Organization (WHO), which requires the drug authorities of each country to evaluate the test results and/or review the lot/batch quality document of vaccine products to ensure the quality of each vaccine lot/batch.
The national vaccine manufacturer based in Bandung city, West Java province, is also considering the storage capacity at every health office.
As of August 9, 2021, the total number of COVID-19 vaccines processed at Bio Farma is 101.2 million doses, of which 81.4 million have received lot release from the national agency, and 19.8 million doses are still in the quarantine process awaiting lot release.
Until the end of August 2021, Indonesia will get an additional supply of vaccines of more than 50 million doses, both through bilateral and multilateral cooperation schemes, including via the COVAX Facility from Sinovac, AstraZeneca, Moderna, and Pfizer.
Reporting by Indonesia Window