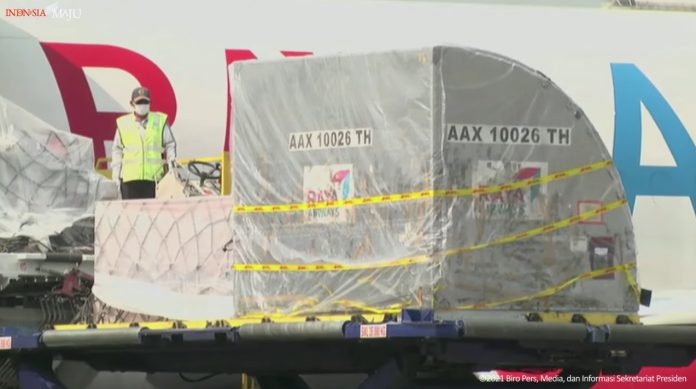 Jakarta (Indonesia Window) – Indonesia received 1.2 million doses of ready-to-use Pfizer COVID-19 vaccine via Soekarno Hatta International Airport in Tangerang district, Banten province, on Thursday morning (Sep. 2).
"The exact number is 1,195,340 doses. I thank you for the support and cooperation of all parties that made the arrival of this vaccine possible," said Deputy Health Minister Dante Saksono Harbuwono in a press statement welcoming the arrival of the vaccine.
With the delivery of the 47th phase of the vaccine, he noted that Indonesia already has around 220 million doses of vaccines, both in ready-to-use products and in bulk.
According to Dante, Indonesia will receive a total of 54.6 million doses of Pfizer vaccine. So far, around 2.7 million doses of the vaccine made by U.S. multinational company have arrived in Indonesia, including those that arrived on Thursday (Sep.2).
He said the government continues to increase the speed of vaccination rates.
Since the first vaccination on January 13, 2021, 50 million doses have been administered as of July (approximately 26 weeks).
Meanwhile, at the end of August, Indonesia had reached 50 million injections for the second doses or only about six weeks since the first 50 million doses were inoculated.
Furthermore, Dante pointed out that during August the Indonesian Ministry of Health has received additional 43 million doses of vaccines, while the distribution of vaccines to all regions in the country has reached an average of 8-15 million doses of vaccines.
With the addition of the vaccines, he is optimistic that the government's target of 2.3 million doses of daily vaccination in September could be achieved.
"The injection rate has been successfully increased to 10 million (doses) per 10 days since August. With a vaccine distribution of 15.2 million (doses) in the 4th week of August and 20.3 million (doses) in the 5th week of the month to early September, we are optimistic that the target of 2.3 million doses of daily vaccination will be achieved," said Dante.
Reporting by Indonesia Window