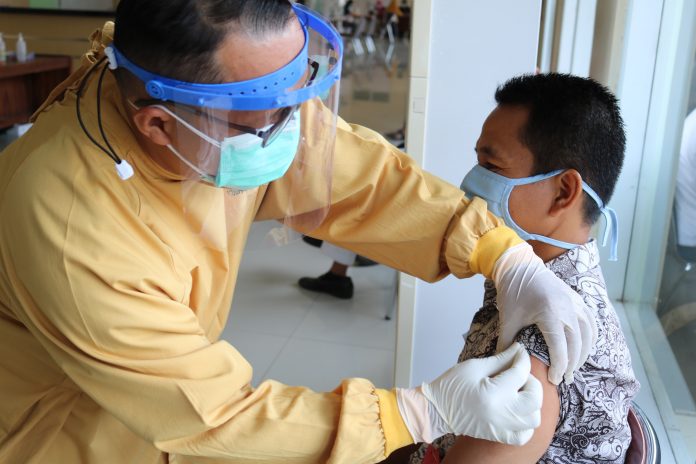 Jakarta (Indonesia Window) – Indonesian mining company Freeport Indonesia (PT FI) has received the first stage of 11,000 doses of Sinopharm vaccine, to vaccinate thousands of the company's workers and their families.
Freeport Indonesia's Vice President for Government Relations Jonny Lingga in Timika, Papua on Friday, said the 11,000 doses of Sinopharm vaccine, which are part of the private vaccination program called Gotong Royong, have arrived in Timika, and will soon be injected into workers and their families, according Indonesian News Agency Antara.
"This vaccine will be brought gradually. For the first phase, 11,000 doses have arrived, while for the second stage of 8,000 doses will be sent within about three weeks," Jonny noted.
According to him, there are a number of requirements that must be met by PT FI, and other companies in Indonesia, to obtain the COVID-19 vaccine.
Vaccinations for Freeport's employees and their families will be carried out in stages according to the number of vaccines available, Jonny added.
Freeport's management targets that by October 2021 all employees and their families have received the COVID-19 vaccination.
The COVID-19 vaccination program for Freeport and all its sub-contracting companies' workers was launched by Freeport Indonesia's President Director Tony Wenas in Jakarta on Thursday (June 17).
In collaboration with the Mimika District Health Office, a total of 4,800 doses of Sinovac vaccine have been administered to PT FI employees.
Before President Joko Widodo launched the private vaccination program, PT FI has coordinated with the Ministry of Health, the Chamber of Commerce and Industry, MINDID (Mining Industry Indonesia), and Indonesia's vaccine manufacturer Bio Farma to obtain the COVID-19 vaccine.
Freeport Indonesia submitted an application to obtain 75,000 doses of vaccine to inoculate its all employees and their families living in Timika and Jayapura (Papua) and Jakarta.
The implementation of the COVID-19 vaccination for PT FI and its sub-contracting companies' employees will be handled by International ISOS, which has been working together to handle health services at the Tembagapura Hospital, Kuala Kencana Clinic, and other health facilities.
ISOS International is certified to vaccinate against COVID-19.
Reporting by Indonesia Window