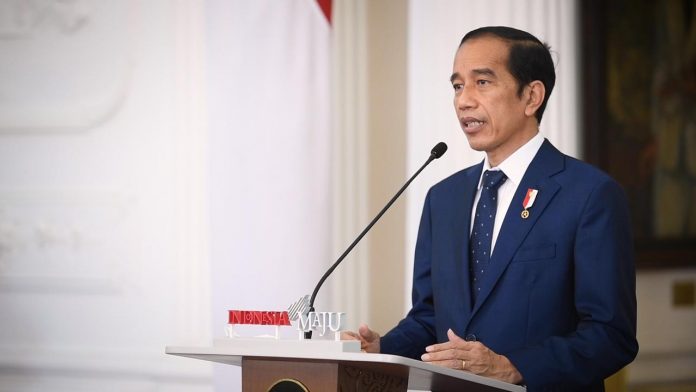 Jakarta (Indonesia Window) – Indonesian President Joko Widodo has emphasized that overcoming the current crisis due to the COVID-19 pandemic requires close cooperation among countries around the world, which should be designed more accurately and in more detail.
The head of state made the remark at a virtual international conference entitled Tackling the COVID-19 Pandemic, Health, Economic, Diplomacy and Social Perspectives from the Merdeka Palace in Jakarta on Tuesday.
According to him, global cooperation should be strengthened because the world cannot be completely free from COVID-19 if there is one country that is not free from the disease.
The President believes that every country has done its best in overcoming this crisis.
The existence of the COVID-19 vaccine has raised new hopes for all countries to get out of the pandemic. In this case, Indonesia continues to promote equal access to vaccines for all countries in the world.
"Indonesia is one of the co-chairs of the COVAX AMC Engagement Group. It is Indonesia's determination to secure access to vaccines for national needs, while at the same time trying to contribute to other countries, to the world. Therefore, I continue to promote the importance of equal access to vaccines to all countries up to the United Nations," said the president.
Furthermore, the head of state reminded that vaccination is not the only effort to get out of the pandemic.
Vaccination should continue to be accompanied by strict implementation of health protocols of wearing masks, maintaining distance, washing hands, as well as 3T (testing, tracing, and treatment).
In addition, President Jokowi believes that the micro-scale approach strategy implemented by Indonesia can be the key to reducing the rate of transmission of COVID-19.
"The Indonesian government is currently promoting a micro-scale management strategy involving the lowest community units, namely RT and RW. With the micro-scale handling pattern, I am sure the rate on the increase in new cases would be curbed and the people would also get the necessary assistance services," he said.
RT and RW are also involved in distributing social assistance to affected people, said the president who believes that 2021 is a year of mutual awakening.
"2021 is a momentum to awaken, a year to meet various opportunities, a year to transform into a new force. The world must continue to enhance cooperation to solve common problems and awaken together," he said.
The international conference was held by the Padjadjaran University Alumni Association in collaboration with the Padjadjaran University, the Indonesian Chamber of Commerce and Industry, as well as the Islamic Chamber of Commerce, Industry and Agriculture (ICCIA) which has 41 members of Muslim countries around the world.
Reporting by Indonesia Window