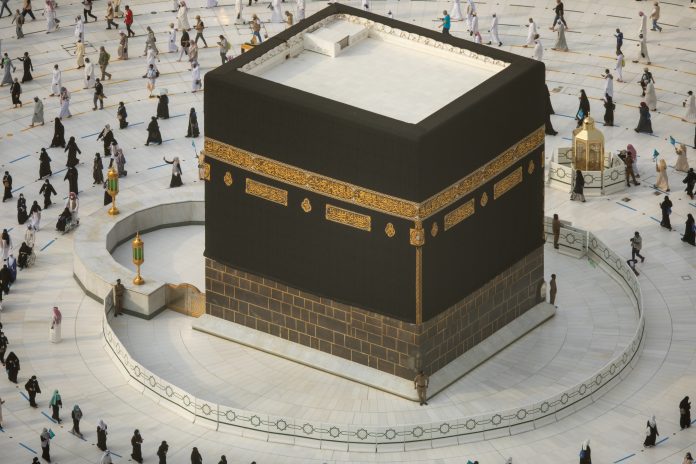 Jakarta (Indonesia Window) – At least 16,000 Saudis and expatriates in the kingdom have registered for performing umrah pilgrimage (the minor hajj) within the first few hours after umrah mobile application I'tamarna was launched on Sunday (Sep 27), according to the Makkah emirate.
The registration of umrah pilgrims for the first 10 days has been completed, it said in a statement on its Twitter account, Saudi Gazette reported.
Earlier, the Ministry of Interior announced the gradual resumption of umrah and visits to the Two Holy Mosques with a limited number of pilgrims, starting from October 4.
In the first phase, a total of 6,000 pilgrims will be allowed to perform the ritual daily, in 12 groups, each consisting of 500 pilgrims.
According to the emirate statement, the Grand Mosque in Makkah will be sterilized 10 times in a day. There will be sterilization before the entry and after the exit of each batch of pilgrims.
Meanwhile, the Zamzam water will be distributed to the pilgrims in packaged bottles.
The Ministry of Hajj and Umrah said the pilgrims will be barred from approaching the Holy Kaaba and the Black Stone (Hajar Al-Aswad).
The tawaf (circumambulation around the Kaaba for seven time) has to be performed outside the temporary barrier installed around the Holy Shrine in the mataf (the area for tawaf).
Specialized medical teams will be available to serve the pilgrims. There are areas set aside for medical isolation in the event of any suspected coronavirus cases among the pilgrims.
Meanwhile, Sheikh Abdul Rahman Al-Sudais, the head of the Presidency for the Affairs of the Two Holy Mosques, has directed the creation of executive field teams to serve the pilgrims.
The team would consist of officials of all the agencies under the presidency representing engineering, scientific, and service sectors.
He underlined the need to implement the plans and programs to offer the best possible services for the pilgrims in a way ensuring their safety and health while taking all the precautionary measures and preventive protocols to stem the spread of coronavirus.
Reporting by Indonesia Window