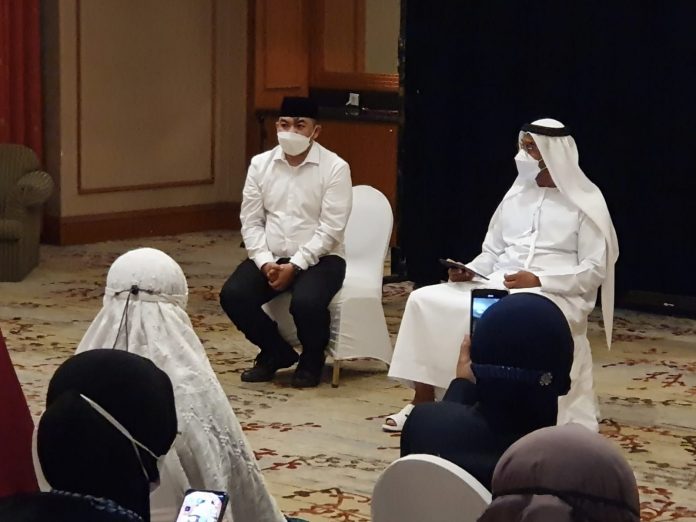 Jakarta (Indonesia Window) – Ambassador of the United Arab Emirates (UAE) to Indonesia Abdulla Salem Al Dhaheri released 50 Indonesian umrah pilgrims on Tuesday evening (Jan. 18) in Jakarta.
The pilgrims left for Saudi Arabia to perform the umrah (minor hajj) pilgrimage on Wednesday (Jan. 19), funded by the Hilal Ahmar Foundation, a humanitarian agency based in the UAE and known to be active in providing humanitarian assistances in Indonesia.
The ceremony of the pilgrims' release was attended by the Military Attache of the UAE Embassy, Colonel Obaid Ahmed Almehrzi, Secretary II Mohamed Abbas Alkhoori, and Head of the UAE Embassy Consular Office Tariq Ismail Albadawna.
In his remarks, Ambassador Al Dhaheri expressed his hope that the departure of these umrah pilgrims, which had been delayed for a long time due to the COVID-19 pandemic, would bring them happiness.
He also emphasized that the departure of Indonesian umrah pilgrims supported by Hilal Ahmar was part of efforts to strengthen relations between the UAE and Indonesia.
The ambassador also hoped that umrah pilgrims can perform their worship smoothly and find it easy to carry out all their affairs until they return to the country.
The UAE Hilal Ahmar Foundation initiated its humanitarian activities in Indonesia since 1997, by distributing aid for the constructions of mosques, schools, wells and others, including helping the poor and people in need.
Reporting by Indonesia Window