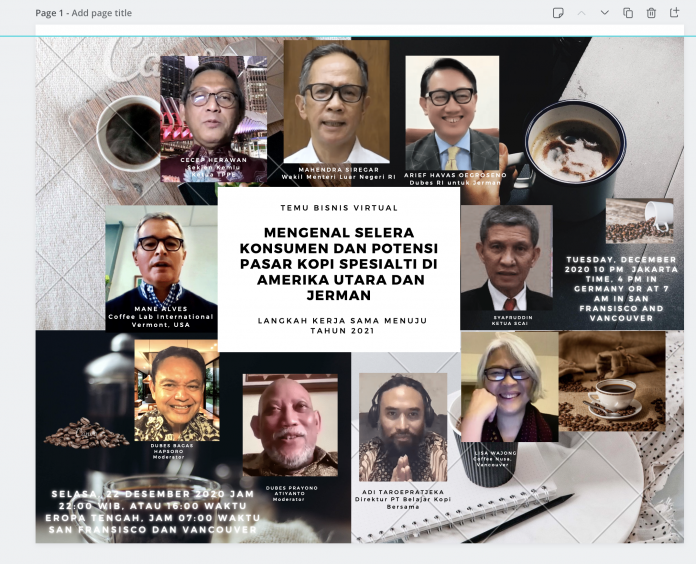 Soon we will enter the year 2021. All sides, from coffee farmers to domestic buyers, even international consumers will certainly compare their satisfaction with coffee in the current 'pandemic' year with their hopes for the next year.
It is interesting to observe the October 2020 report from the International Coffee Organization (ICO).
It stated that Indonesia is the only coffee exporting country that has had a significant increase in exports over the past one year, which was recorded at 21.8 percent.
The amount of coffee sold last year reached 5.7 million bags with 60 kilograms per each of bag. This year the amount was expected to be 6.9 million sacks.
This ICO report crashed Brazil's ranking which had fallen to -2.3 percent.
Other Indonesian competitors include Viet Nam and Colombia which fell to -3 percent and -8.7 percent respectively.
Although there are reasons that Indonesian coffee needs to be sorted first, whether it is specialty coffee or commercial coffee, including three-in-one coffee (coffee, milk and sugar), the 21.8 percent increase in exports is real.
The ICO's analysis that the growing production of Indonesian coffee is due to the use of online promotion and the increasingly tighter supervision in traceability.
Export space
Although Indonesia has nearly 270 million people who are also coffee consumers, around 60-70 percent of Indonesia's coffee bean production is reported to be exported to the global market.
That means there is still a large capacity room to export coffee even though domestic coffee consumption is also high.
As the 4th largest coffee producing country in the world, Indonesia's specialty coffee products are known overseas as one of the best in the world.
In 2021, the export opportunities for Indonesian coffee, especially specialty coffee, are wide open. This is because the taste of Indonesian specialty coffee is considered extraordinary and there is a lifestyle trend for specialty coffee in various countries.
Various
Indonesia is one of the countries that has the most types of coffee origin, or it can be called single-origin.
There are such various types of origin of Indonesian coffee as those from Sumatra, Java, Bali, Flores, and Papua. It has been proven that each type of coffee has a distinctive and unique taste.
From a study conducted by the Ministry of Foreign Affairs' Economic Acceleration and Recovery Team (TPPE) in December 2020, it has been seen that from May to September 2020 there has been a significant increase in Indonesian coffee exports.
The data are in accordance with statistics compiled by the ICO published in October 2020, which have always been the reference for the Indonesian Specialty Coffee Association in planning coffee marketing strategies both domestically and globally.
The year 2020 has provided many lessons for coffee businesses and the Indonesian government.
As the Indonesian Ministry of Foreign Affairs-led initiatives, during September to 22 December 2020, joint webinars were held by several Indonesian Embassies abroad.
Representatives of the Republic of Indonesia abroad who participated so far are the Indonesian Embassies in Stockholm, Berlin, Washington DC, Oslo, Copenhagen, Helsinki, as well as the Indonesian Consulate Generals in Hamburg, Frankfurt, Vancouver, Chicago, New York, San Francisco, Los Angeles, and Houston.
At the Webinar meeting on 22 December 2022, Vice Minister for Foreign Affairs Mahendra Siregar encouraged national coffee industry players to take advantage at this current situation by innovating and creating added value through strengthening the application of technology, sustainability and traceability.
In addition, players in the national coffee industry are also expected to expand the market, especially for specialty coffee products.
Close collaboration with related agencies and departments, actively organizing promotions abroad and the use of the Indonesian diaspora will be key activities for the Ministry of Foreign Affairs and Indonesian Representatives abroad.
In the next  Virtual Business Meeting, national coffee industry players not only have the opportunity to get to know more about the characteristics of the coffee market in North America and Germany. They were also invited to directly conduct business forums with potential importers in the two regions, so as to create a link and match between producers and consumers.
Indonesian entrepreneurs should also be aware of the requirements set by the export destination countries.
It is necessary to intensify new channels in selling coffee, for example through e-commerce, and diligently participating in coffee production technology innovation competitions and exhibitions.
With focused, targeted, and strategic goals, it is hoped that efforts to increase coffee exports are expected to immediately produce optimal results.
Looking forward to Indonesia's specialty coffee awakening in 2021. Have a great New Year!
Author: Bagas Hapsoro [A former Indonesian Ambassador to Sweden and Latvia (2016-2020)]