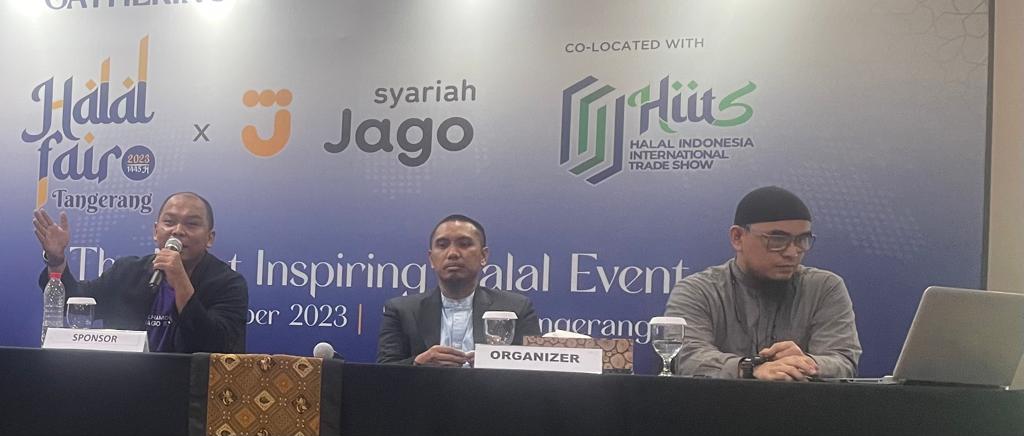 The Halal Fair Series 2023 which is in conjunction with the Halal Indonesia International Trade Show (HIITS) combines Business to Customer (B2C) and Business to Business (B2B) concepts.
Jakarta (Indonesia Window) – The Halal Fair Series, which this year is in conjunction with the Halal Indonesia International Trade Show (HIITS), is in line with the Indonesian Halal Industry Master Plan 2023-2029 launched by Indonesian Vice President K.H. Ma'ruf Amin last October.
"Halal is not just about certification, but covers everything from ingredients to serving products, and so on," Wahyu Promo Citra's project director Satrio Sukur told at a press conference towards the Halal Fair-HIITS 2023 here on Wednesday.
"Educating the public regarding the regulations and implementation of halal certification in Indonesia should continue to be carried out, one of which is through events such as the Halal Fair and HIITS," he added.
He pointed out that with Indonesia's population amounting to more than 270 million people, which 90 percent of them are Muslims, the halal ecosystem in the archipelagic country continues to develop and grow.
Therefore, according to him, the Halal Fair and HIITS, which are held regularly twice a year, are still not enough to campaign and develop the halal ecosystem which has enormous potential in Indonesia.
"Education should be continued, and there will be roadshows in a number of big cities, such as Makassar (South Sulawesi province) and Palembang (South Sumatra province) in 2024," Satrio said.
Apart from campaigning for halal products, he continued, Halal Fair-HIITS 2023 would be an incubation for business actors to interact directly with consumers, and an opportunity for the business players to identify their market segments, increase business networks, and learn business activities in accordance with Islamic law in order to strengthen their products and services capacity and quality that are globally competitive," he explained.
During the Halal Fair–HIITS, Indonesia's Halal Product Guarantee Organizing Agency (BPJPH) is ready to provide free consultation and halal certification services to businesspeople.
Satrio expected that this event could be a good opportunity for local MSMEs (micro, small, and medium enterprises) products to provide the alternative solutions and choices for consumers. "This is also an incentive for MSMEs to immediately process halal certification," he noted.
Meanwhile, Halal Fair-HIITS' project director Agung Paramata said, the halal industry is a niche in a larger-scaled industry.
"With the Halal Fair Series and the Halal Indonesia International Trade Show, we want to develop the halal industry ecosystem more widely," he said, adding that regulations regarding halal products do not mean increasing the number of things that are not permitted for consumption by the public by Islamic Law.
"There are many halal products, but we haven't focused on them, so it is as if that everything is not allowed to consume," Agung said.
This year's Halal Fair-HIITS, which will be held on December 8-10 at the Indonesia Convention Exhibition (ICE) in BSD area, Tangerang district, Banten province, has the support from Bank Jago Syariah.
During the press conference, Bank Jago's head of sharia financing Agung Lesmana expressed his appreciation for Wahyu Promo Citra's commitment to consistently holding Halal Fair events since 2019.
According to him, Bank Jago Syariah's involvement in this event aims to support the development of sharia economics in Indonesia.
"By adopting the latest technology, Bank Jago has a big goal of advancing the economy and sharia financial industry. "We hope that Halal Fair can help increase sharia financial literacy and encourage consumption of local halal products, especially for Indonesian people," Agung explained.
Regarding sharia financial literacy in the country which is still very low – around 9.4 percent, much lower than conventional financial literacy which has reached 50 percent – he said that at the Halal Fair-HIITS 2023, Bank Jago Syariah would hold sharia financial education for family.
Apart from the small sharia financial literacy rate, the market share of this industry in Indonesia is also still low, around seven percent, Agung noted, adding, "This figure is very small compared to that of Malaysia which has reached 30 percent."
"Bank Jago Syariah, which is based on digital applications, is expected to be a trigger to increase the market share of sharia financial products in Indonesia," he further said.
The 2023 Halal Indonesia International Trade Show (HIITS) is a re-branding of the Halal Indonesia Expo (HIEX) which was held in 2019 and 2022 with a total of at least 47,000 visitors.
The Halal Fair Series 2023 and the Halal Indonesia International Trade Show, which have the tagline 'The Most Inspiring Halal Event', combine the concepts of Business to Customer (B2C) and Business to Business (B2B).
Occupying an area of 10,000 square meters, the Halal Fair and HIITS 2023 is expected to be attended by 250 exhibitors from within and outside the country, including Malaysia, Palestine, the Philippines, Japan, Saudi Arabia and the United States.
In collaboration with a number of experienced export aggregators, B2B events are held in a hybrid manner in the form of a series of events on export-import business education seminars, workshops, buyers' nights, and business matching.
Reporting by Indonesia Window