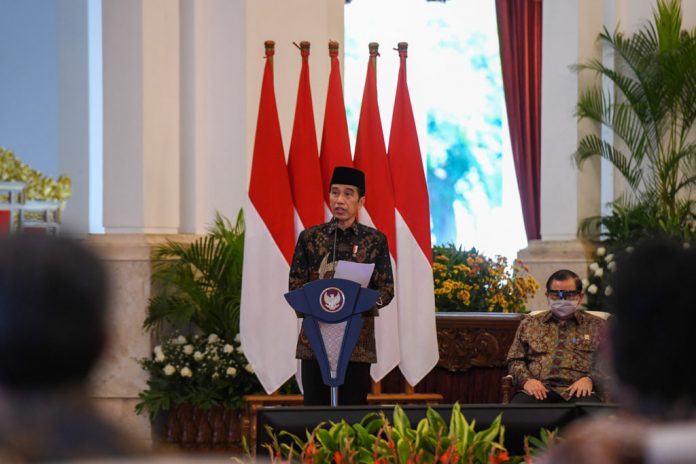 Jakarta (Indonesia Window) – Indonesia's sharia-based bank of Bank Syariah Indonesia, which is a merger of three state-owned sharia-based banks, officially serves people with the presence of Bank Syariah Indonesia (BSI) company which was inaugurated by President Joko Widodo at the State Palace, Jakarta on Monday (Feb.1).
"This status has become one of Indonesia's global identities and is one of our pride. So, it is only natural for Indonesia to become one of the leading countries in sharia economic development," said the head of state in his remarks.
Data from the State of Global Islamic Economy Indicator report shows that Indonesia's Islamic economic sector has experienced significant growth.
The president said that in 2018 Indonesia's sharia-based economy ranked tenth in the world. Then, it climbed to the fifth in 2019, and rose to the fourth in 2020 worldwide.
"We should be grateful for the increase in rank. However, we should continue to work hard to make Indonesia the center of gravity for a regional and global sharia-based economy," he stressed.
President Joko Widodo also revealed that in the midst of the crisis due to the COVID-19 pandemic, the performance of the Indonesian Islamic banking continued to record a stable growth.
"The sharia banking has managed to grow higher than the conventional banking. Once again, we should be grateful for this. Alhamdulillah," he said.
In terms of assets, the Islamic banking increased by 10.97 percent on an annual basis, compared to that of the conventional banking which increased by 7.7 percent.
Regarding third party funds, the Islamic banking grew by 11.56 percent annually, slightly above the conventional banking which amounted to 11.49 percent.
In terms of financing, the Islamic banking grew by 9.42 percent annually, much higher than the conventional banking which only grew by 0.55 percent.
Considering those indicators, the president believes that the country's sharia-based economy will grow rapidly in the future.
"With such data, I believe that God willing, the Indonesian sharia-based economy will grow very fast and contribute greatly to the welfare of our people and society. It is a part of the evidence that Islam is a religion that is rahmatan lil 'alamin (a mercy to all creations)," he said.
Meanwhile, the President Director of PT Bank Syariah Indonesia Tbk., Hery Gunardi, said that the integration and increase in the value of the Himbara Islamic Bank (the association of sharia state-owned banks) which began in early March 2020, took about 11 months.
He pointed out that in December 2020, BSI had total assets of 240 trillion rupiahs (some 17.1 billion U.S. dollars); total financing of 157 trillion rupiahs (some 11.2 billion U.S. dollars); total third party funds reaching 210 trillion rupiahs (about 14.9 billion U.S. dollars), and total core capital of 22.6 trillion rupiahs (about 1.6 billion U.S. dollars).
BSI also has more than 1,200 branch offices and 20,000 employees throughout the largest Muslim population country.
Reporting by Indonesia Window