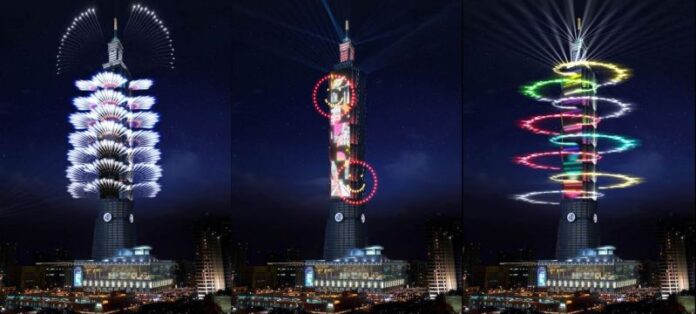 The 2023 New Year's Eve in Taipei was celebrated with 16,000 fireworks and a light show, with an impressive display of color, light and sound.
Jakarta (Indonesia Window) – Taiwan's landmark Taipei 101 rang in the new year with 16,000 fireworks and a light show to welcome 2023 with an impressive display of color, light and sound.
Taipei Financial Center Corp. (TFCC), which manages the skyscraper, released Dec. 15 a 30-second animation previewing the upcoming five-minute extravaganza. Themed 'Caring for the World and Shining Dreams', the event featured a variety of images, including doves, smiley faces and the tree of life, according to the TFCC.
The light show was transmitted via a brand-new mesh screen that wrapped around all four sides of the building and uses the latest chip-free, low-smoke technology, the TFCC said, adding that it is the building's first multimedia display combining beam lights, lasers, animations and music.
The operation team was led by Lai Yu-nong, a well-known lighting and visual performance artist, the TFCC said. Other members included winners of the Golden Melody, Golden Bell and Golden Horse Awards, it added.
With this year witnessing major challenges like the pandemic and Russian war in Ukraine, the 2023 theme was intended to convey peace and wishes for a brighter future, Taipei 101 Chairman Chang Hsueh-shun said.
First held in 2005, the Taipei 101 fireworks display has become one of the most celebrated events of its kind and is routinely covered by major global media outlets. In 2012, it was named by CNN as one of the world's 10 best spots for ringing in the new year.
Source: Taiwan Today
Reporting by Indonesia Window