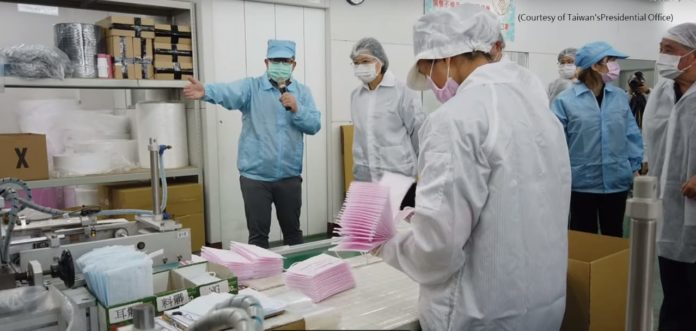 Jakarta (Indonesia Window) – The novel coronavirus (COVID-19) pandemic has paralyzed all activities in the entire world. Its spreading no longer recognizes geographical, economic and social boundaries.
The United States and several developed countries in Europe are in the top 10 with the most confirmed cases in the world.
The speed of the government in making decisions and taking preventative measures ultimately determines the number of COVID-19 cases in a country.  In addition, people's compliance in carrying out recommendations given by experts and authorities is decisive to contain the COVID-19.
Taiwan, which can be reached by airplane within 2.3 hours from China where the pandemic began, gives an example of handling the outbreak that should become a global role model.
Since being hit by the SARS outbreak 17 years ago, Taiwan has been prepared to face the threat of infectious diseases that could arise at any time, according to a statement from the Taipei Economic and Trade Office (TETO).
Therefore, when information concerning a novel pneumonia outbreak was first confirmed on December 31, 2019, Taiwan began implementing onboard quarantine of direct flights from Wuhan on the same day.
On January 2, 2020, Taiwan established a response team for the disease and activated the Central Epidemic Command Center (CECC) on January 20 as a level 3 government entity, upgrading it to level 2 and level 1 on January 23 and February 27, respectively.
The CECC is able to effectively integrate resources from various ministries and invest itself fully in the containment of the epidemic.
As of April 9, Taiwan had tested a total of 42,315 persons showing 380 confirmed cases, of which 54 have been indigenous, 326 imported and five deaths; 80 people had been released from hospital after testing negative.
Despite its proximity to China, Taiwan ranked 123rd among 183 countries in terms of confirmed cases per million people. This has shown that Taiwan's aggressive efforts to control the epidemic are working.
Dynamic
The TETO statement states that Taiwan has implemented dynamic plans concerning border quarantine measures, including onboard quarantine, fever screening, health declarations, and a 14-day home quarantine for passengers arriving from nations it has listed under Level 3 Warning.
Moreover, Taiwan has established an electronic system for entry quarantine, which allows passengers with a local mobile phone number to fill in health information via mobile phone.
A health declaration pass will then be sent to them via a text message. This is connected to the community care support management system, which allows government agencies to provide care services and medical assistance.
Individuals' travel history is now stored on the National Health Insurance (NHI) card to alert physicians to possible cases and prevent community transmission.
For those undergoing home quarantine or isolation, the government is working with telecom operators to allow GPS tracking of their locations.
Quarantine offenders are subject to fines or mandatory placement according to relevant laws and regulations, so as to prevent transmission.
Reporting by Indonesia Window