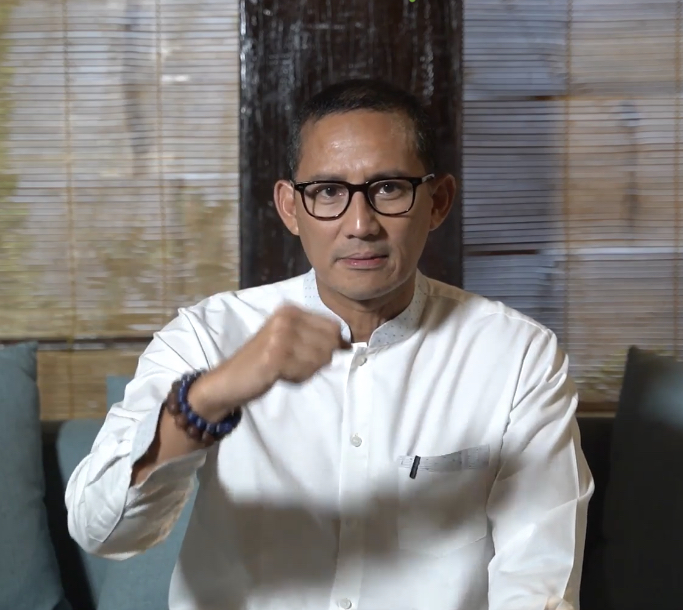 Sudut Pandang is expected to always present quality news and information while also educating and enlightening people.
Pandeglang, Banten, (Indonesia Window) – Indonesia's Minister of Tourism and Creative Economy Sandiaga Salahuddin Uno has appreciated the initiative of local media, Sudut Pandang, for holding a tourism seminar under the theme Acceleration of the Development of the Tourism Special Economic Zone of Tanjung Lesung in Pandeglang District, Banten Province.
Minister Sandiaga who is also the Head of the Tourism and Creative Economy Agency expressed his appreciation virtually as the keynote speaker at a tourism seminar in the framework of the 8th Anniversary of media Sudut Pandang in Tanjung Lesung on Saturday.
Sandiaga expressed his hope that the event could encourage all stakeholders to continue to provide the best support for ease of investment and readiness of amenities and other supporting infrastructure.
The minister also expected that this support could help achieve the targets of investment and the number of tourist visits in the Special Economic Zones in Tanjung Lesung.
Tanjung Lesung is a thriving integrated beach resort for leisure and hotel overlooking Mount Anak Krakatu.
"Efforts to reach the achievement can be made, among others, by collaborating with the media, bearing in mind that we are currently in an era of openness and ease of information so that it is imperative that it has an impact on improving the economy and people's welfare," he said.
Sandiaga also expressed his gratitude to Sudut Pandang for choosing Tanjung Lesung as the venue of the seminar as well as proving to the world that tourism in the beach resort area have been reviving after the COVID-19 and tsunami in this resort area four years ago.
"I hope that media Sudut Pandang can always provide quality news and information that educate and enlighten the people," he said.
The seminar, which was opened by the Head of the Banten Provincial Tourism Office H. Al Hamidi, also featured several speakers including Pandeglang District Head Irna Narulita and a member of Commission II of the Banten Provincial Legislative Council Nurul Wasiah.
This activity also featured a senior journalist speaker from Pandeglang District, who is also a member of the Monitoring and Evaluation Team for the Acceleration of the Development of the Special Economic Zone in the Tourism Sector, Dr. Aat Surya Safaat.
Media Sudut Pandang is an online media under the auspices of PT. Sudut Pandang Magazine which is complementary to this monthly magazine.
Editing by Indonesia Window