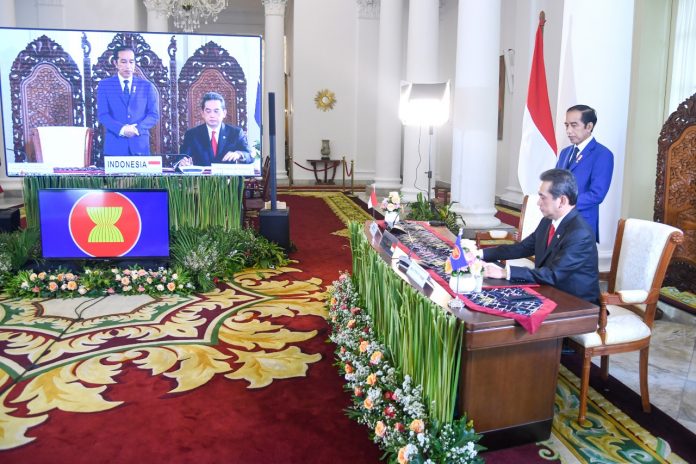 Jakarta (Indonesia Window) – The Regional Comprehensive Economic Partnership (RCEP) Agreement has been signed after ASEAN member countries and their partners have been negotiating for almost one decade.
"Today is a historic day. Today we signed the Regional Comprehensive Economic Partnership Agreement or RCEP," Indonesian President Joko Widodo (locally known as Jokowi) when delivering a speech from the Bogor Presidential Palace, West Java at the 4th RCEP Summit which was held virtually on Sunday.
The RCEP agreement has become a history for Indonesia as it was initiated when the country chaired the ASEAN in 2011.
The head of state said that all countries considered the RCEP negotiation process was not easy.
"The signing of the RCEP marks our strong commitment to multilateralism," he said.
The achievement of the RCEP negotiation also marks the commitment of ASEAN member countries in carrying out the principles of multilateral trade that is open, fair and beneficial to all parties.
RCEP also provides new hope and optimism for economic recovery in the region post-pandemic.
"It is an honour for Indonesia to be the coordinating country in this long process. On this occasion, I would like to express my gratitude and appreciation for the support and contribution of all countries which are involved in this negotiation process," he said.
RCEP is a symbol of the commitment of regional leaders to a win-win paradigm that prioritizes common interests with ASEAN's centrality in the Indo-Pacific region.
President Jokowi stated that the signing of the cooperation agreement was only a beginning.
After that, the involving countries still have to make efforts to implement the agreement.
"It also requires political commitment at the highest level. For Indonesia, we open opportunities for countries in the region to join RCEP," the president said.
RCEP consists of 10 ASEAN member countries and six countries that have free trade agreements with ASEAN, namely Australia, China, Japan, South Korea and New Zealand.
Reporting by Indonesia Window