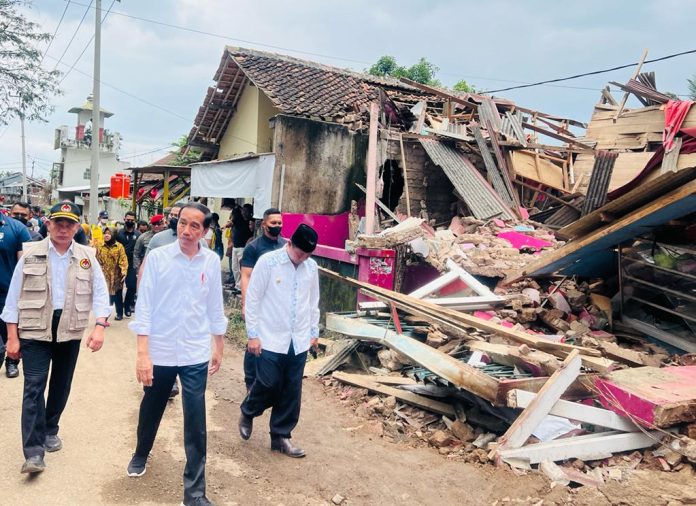 Death toll from the Cianjur earthquake, West Java, has risen to 323 after the joint SAR team found two more bodies buried in the ground as of Monday, at 5 p.m. local time.
Bogor, Jawa Barat (Indonesia Window) – Death toll from the Cianjur earthquake rose to 323 after a joint team found two more bodies until Monday, at 5 p.m. local time, while nine people are still missing.
"Until today (28/11), the National Search and Rescue Agency (Basarnas) has found two victims buried in the ground in Cijedil village, bringing death toll to 323 people, while nine people are still missing," the Cianjur district head, Herman Suherman, told a press conference in Cianjur, Monday.
Herman also reported that 108 people are still under treatment for serious injuries, while minor injured victims have been treated and returned to their respective homes.
"The National Agency for Disaster Countermeasure (BNPB) and the Ministry of Women's Empowerment and Child Protection (K3PA) have also conducted a survey aimed at obtaining data on refugees. The data are collected by age, gender and vulnerable group at the evacuation posts," the district head noted.
The survey also showed that as of 4 p.m. local time, Monday, there are 449 points consisting of 331 centralized points and 118 independent points with tents set up by refugees close to their respective homes, he said.
"The survey results also show that there are 40,152 families. The total number of refugees surveyed is 100,330 people, consisting of 48,490 male refugees, 51,840 female ones, 147 people with disabilities, 1,317 pregnant women, and 6,754 elderly people," Herman said.
Regarding material losses, he disclosed that there are a total of 63,229 damaged houses, consisting of 26,237 heavily damaged, 14,196 moderately damaged, and 22,796 lightly damaged.
"The damaged infrastructures consist of 421 school buildings, 170 places of worship, 14 health facilities, 17 office buildings, 16 affected sub-districts covering 151 villages," he said.
He also pointed out that logistics distribution to reach areas with difficult conditions is still being carried out by two-wheeled vehicles.
Likewise, he said there are 294 volunteer organizations working in 15 sectors, with a total of 4,222 personnel, he said, adding that te number of aftershocks has decreased so that people can return to their undamaged houses.
Reporting by Indonesia Window