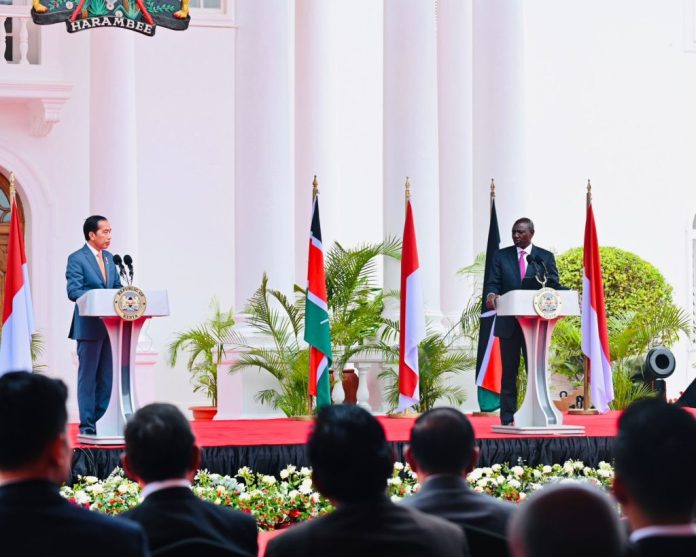 Preferential trade agreement is needed because the trade between Indonesia and Kenya is seen to continue to increase every year.
Jakarta (Indonesia Window) – The meeting between Indonesia and Kenya has discussed a number of cooperation between the two countries in various sectors, including the establishment of a preferential trade agreement (PTA).
"Indonesia can be Kenya's entry point to ASEAN (Association of Southeast Asian Nations) and Kenya can be Indonesia's entry point to Sub-Saharan Africa. For this reason, I encourage the formation of a preferential trade agreement as soon as possible," the president said in a joint press statement after a meeting with his Kenyan counterpart William Ruto in Nairobi on Monday (Aug. 21).
A preferential trade agreement is needed because trade between the two countries is seen to continue to increase every year. President Widodo said that the value of trade between the two countries in 2022 reached around 507 million US dollars and it needs to be increased.
"The increased trade that reached 507 million US dollars in 2022 and needs to be expanded by exploring various other opportunities," he noted.
The expected PTA also received a good response from President William Ruto. In the same press statement, he likewise said that the two countries would soon form a PTA.
"We are committed to establishing a preferential trade agreement between our two countries," William Ruto stated.
In addition, President Widodo also conveyed Indonesia's desire to increase investment in the energy sector in Kenya, and asked for the support of that African country's government so that the expected investment could be realized soon.
"I seek support from Kenya so that state-owned oil and gas firm Pertamina's investment with the Geothermal Development Company worth 1.5 billion US dollars and with the Guma Group can be realized and expanded in the new and renewable energy sector," he said.
The Indonesian head of state further said that in the future it is necessary to form a bilateral investment treaty (BIT) between the two countries.
On that occasion, President Widoo expressed his hope that the cooperation of the food and drug administration (FDA) in the respective country can be expanded to medicinal products and other pharmaceutical products.
"I hope the collaboration between Biofarma and BioVax with Generics Africa Ltd regarding vaccines and pharmaceutical products and between FDAs of the two countries can be expanded to other medicinal products and pharmaceutical products," he said.
In addition, the president also conveyed Indonesia's commitment to providing assistance to Kenya through the Indonesia-Africa Infrastructure Dialogue (IAID) in the fields of health, food security and disaster mitigation.
"We need to strengthen the cooperation moving forward, particularly in Kenya's priority sectors," the president said.
Editing by Indonesia Window