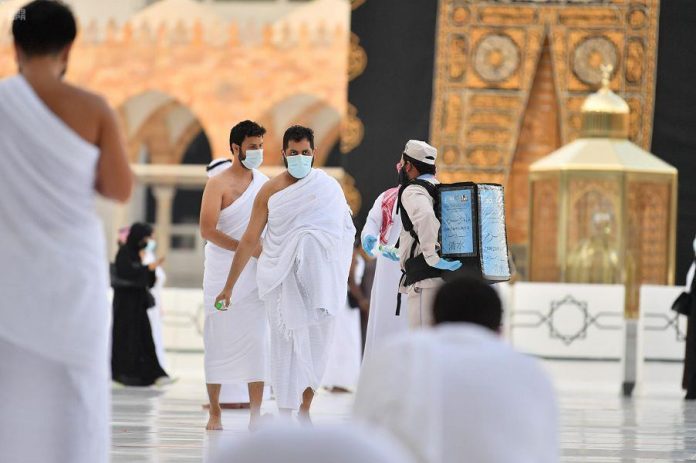 Jakarta (Indonesia Window) – More than 4.5 million worshipers and visitors have entered the Grand Mosque in Makkah and the Prophet's Mosque in Madinah since the resumption of umrah service and visits to the Two Holy Mosques on October 4 until the beginning of this week, the General Presidency for the Affairs of the Two Holy Mosques stated on Monday (Dec 21).
The presidency affirmed that the management of these huge numbers of the faithful has been carried out while ensuring the strict compliance of the coronavirus precautionary measures and preventive protocols, Saudi Gazette reported.
The presidency said it has made the elaborate arrangements, in coordination with the Ministry of Hajj and Umrah and the relevant authorities, to ensure the safety and health of worshipers and pilgrims as well as to enable them to perform their rituals in ease and comfort.
The Saudi government announced the gradual resumption of umrah service from October 4.
In the first phase, citizens and expatriates from within the Kkngdom were allowed to perform umrah at a 30 percent capacity of the two holy mosques, or 6,000 pilgrims per day.
In the second phase that began on October 18, the capacity was raised to 75 percent, allowing 15,000 pilgrims and 40,000 worshipers a day.
Worshipers were allowed to perform prayer at the Grand Mosque, visit Rawdah Sharif, and greet the Prophet ﷺ at the Prophet's Mosque during the second phase.
From November 1 as part of the third phase, pilgrims from abroad were allowed to perform umrah at full capacity of 20,000 pilgrims and 60,000 worshipers per day.
Worshipers need to register through the I'tamarna App to obtain permits to perform Umrah as well as to worship at the Grand Mosque and Rawdah Sharif and to visit the Prophet's grave.
Reporting by Indonesia Window