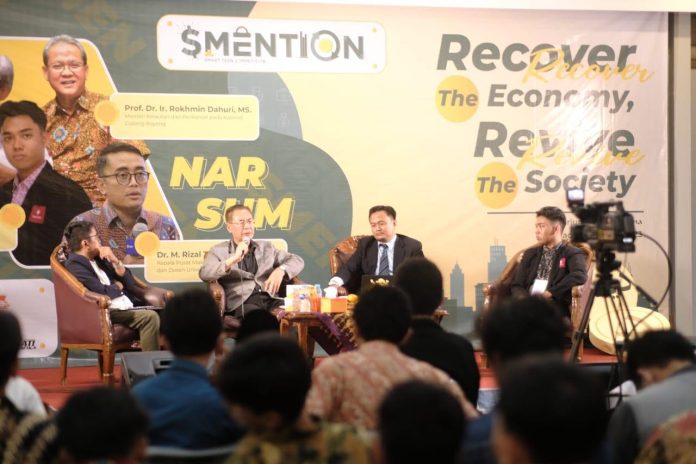 The international seminar of an Indonesian Integrated Islamic high school, SMAIT Insantama, featured, among others, Prof. Dr. Kim Soo-il, Secretary-General of the Tourism Promotion Organization for Asia Pacific Cities and Chair Professor at Daeshin University, South Korea.
Bogor, West Java (Indonesia Window) – An Indonesian integrated Islamic high school, SMAIT Insantama, held an international seminar in the face of the threat of an economic recession, entitled 'Recover the Economy, Revive the Society' in Bogor city, West Java province, on February 25-26, 2023.
The international seminar featured Prof. Dr. Kim Soo-il, Secretary-General of the Tourism Promotion Organization for Asia Pacific Cities and Chair Professor at Daeshin University, South Korea.
The event also presented Prof. Dr. Ir. Rokhmin Dahuri, M.S., Chairman of the Maritime and Fisheries Advisory Board of the Indonesian chamber of Commerce and Industry (Kadin) and General Chair of the Indonesian Aquaculture Society, and Dr. Taifunisyam Taib Co-Dean of the Center for Human Rights at the International Islamic University, Malaysia.
In addition, the seminar also presented Dr. M. Rizal Taufikurrahman, M.Sc., Head for Center of Macroeconomic and Finance at the Institute for Development of Economics and Finance (INDEF), and Iqrar Mimadzakira, General Chairman of SMAIT Insantama's intra-school organization (known as OSIS).
On the occasion, Prof. Dr. Kim Soo-il gave an explanation about a relatively fast and efficient economic recovery in South Korea, which is different from Malaysia and Indonesia, because the country in East Asia has quite a different approach, namely that Korea does not recognize or use the term development, but instead improvement of conditions or resource capacity.
The former South Korean Ambassador to Indonesia pointed out that his country only plays a role in the foundation stages, namely vision, policy and resource mobilization.
"The next stage is that the role of the government will be much reduced because companies that are already big (such as Samsung and LG) will develop the economy freely and bring benefits to Korea," he said, adding that this could be done because companies in Korea understand and have one frequency with the vision of the country.
Meanwhile, Dr. Taifunisyam Taib explained Malaysia's experience in recovering economic conditions since the pandemic period to post-pandemic time.
"The economic recovery is carried out in two major approaches, namely on a macro (top down policy) and micro (bottom up policy) basis. The macro policy during and after the pandemic period was carried out, among others, by reducing excise taxes, bank moratorium, business bankruptcy policies, controlling inflation, economic initiatives and increasing foreign investment," he noted.
Meanwhile, the micro basis during the post-pandemic time is carried out by subsidizing the price of goods, controlling business monopolies, increasing online business for micro, small and medium enterprises (MSMEs) and a work from home policy, he added.
"The two policy approaches are relatively capable of dealing with the situation and conditions of the economy in Malaysia, which has also been affected by the pandemic. The relatively small population and better economic conditions make the economic recovery progress more quickly," he said.
Prof. Rokhmin Dahuri explained the situation and conditions faced in his presentation entitled 'Road Map for National Development Towards Golden Indonesia 2045'.
The chairman of the Kadin Maritime Affairs and Fisheries Advisory Board presented a roadmap for Indonesia from its position as a middle-income country to a developed-just-prosperous and sovereign country in the Economic Growth formula = f (I, E, K, Im).
"With this formula, the position of this developed country can only be achieved if we succeed in having an average quality economic growth of seven percent per year for 10 years; the result of Investment plus Export must be greater than Consumption plus Import; The Gini coefficient is below 0,3 (inclusive), which means that there must be an adequate distribution of wealth so that wealth is not only enjoyed by a few people; and consistently all development programs must achieve environmentally friendly conditions in a sustainable manner," he explained.
Prof. Rokhmin also explained many aspects of comparing the achievements of Indonesia's economic development performance with those of other countries.
After receiving experience-based explanations in Malaysia and Korea, and a road map to a developed country for Indonesia, Dr. M. Rizal Taufikurrahman provided additional insight that complemented the perspectives of the participants.
The head of INDEF's Center for Macroeconomics and Finance compared the conventional economic approach previously described, discussed the pluses and minuses and compared it to the sharia-based economic approach.
"Our economic problems today are in the distribution aspect. A country can progress sooner or later depending on how the distribution problem is resolved," he said.
According to him, from an Islamic perspective, sharia has provided guidelines for managing distribution in ownership arrangements to fulfill basic needs (clothing, food, housing, education and health).
"Ownership in Islam includes individual, public and state ownership which guarantees the fulfillment of the people's needs and is able to make the country progress. The characteristics of a developed country are not solely based on income, but also quality of life, health and education," he said.
Meanwhile, Iqrar Mimadzakira said the role of the younger generation in economic recovery is through contributions by starting to be responsible for themselves, their families and society.
"The key words are learning and obeying the Shari'a. Because the key to blessed progress is that in the corridor of obedience to Allah SWT (God). Because God, as the creator of humans and the earth where they live, is definitely all-knowing about solving all problems in human life, including the economy," Iqrar said.
Reporting by Indonesia Window