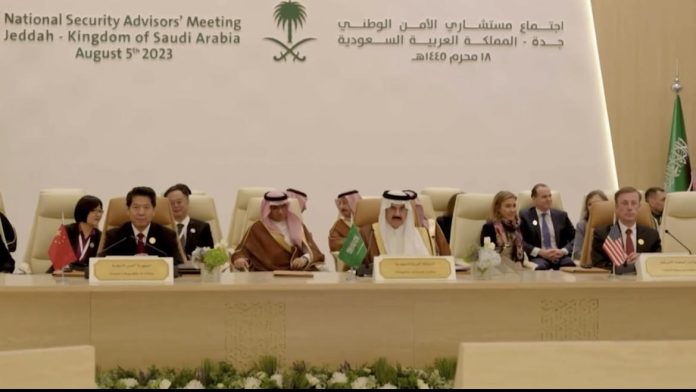 The National Security Advisors expressed their thanks and appreciation to the leadership of the Kingdom of Saudi Arabia for calling for their meeting and hosting it.
Jakarta (Indonesia Window) – The National Security Advisors and representatives from over 40 countries and international organizations, including the United Nations, concluded their meeting on Saturday (Aug. 5) in Jeddah, Saudi Arabia.
The meeting was chaired by Saudi Minister of State and Member of the Council of Ministers, National Security Advisor Dr. Mosaad bin Mohammad Al-Aiban, according to Faheem H. Alhamid, the President of the Saudi Arabian Islamic Communication Center, saying in a short service message received by Indonesia Window on Sunday.
The participants expressed their thanks and appreciation to the leadership of the Kingdom of Saudi Arabia for calling for this meeting and hosting it.
This meeting came as a continuation of the efforts and good offices of His Royal Highness the Crown Prince, Prime Minister Mohammad bin Salman bin Abdulaziz Al-Saud, that His Royal Highness has been exerting in this regard since March 2022.
The countries and organizations that participated in the meeting chaired by the Kingdom of Saudi Arabia include: the Argentine Republic, the Commonwealth of Australia, the Kingdom of Bahrain, the Federative Republic of Brazil, the Republic of Bulgaria, Canada, the Republic of Chile, the People's Republic of China, the Union of the Comoros and the Czech Republic.
The meeting was also taken part by the Kingdom of Denmark, the Arab Republic of Egypt, the Republic of Estonia, the European Commission, the European Council, the Republic of Finland, the French Republic, the Federal Republic of Germany, the Republic of India, the Republic of Indonesia, the Italian Republic, Japan and the Hashemite Kingdom of Jordan.
Other participating countries include the State of Kuwait, the Republic of Latvia, the Republic of Lithuania, the Kingdom of the Netherlands, the Kingdom of Norway, the Republic of Poland, the State of Qatar, the Republic of Korea, the Republic of Romania, the Slovak Republic, the Republic of South Africa, the Kingdom of Spain, the Kingdom of Sweden, the Republic of Turkey, Ukraine, the United Arab Emirates, the United Kingdom, the United Nations, and the United States of America.
The participants agreed on the importance of continuing international consultations and exchanging opinions in order to build a common ground that will pave the way for peace.
They also emphasized the importance of benefiting from views and positive suggestions made during this meeting.
Reporting by Indonesia Window