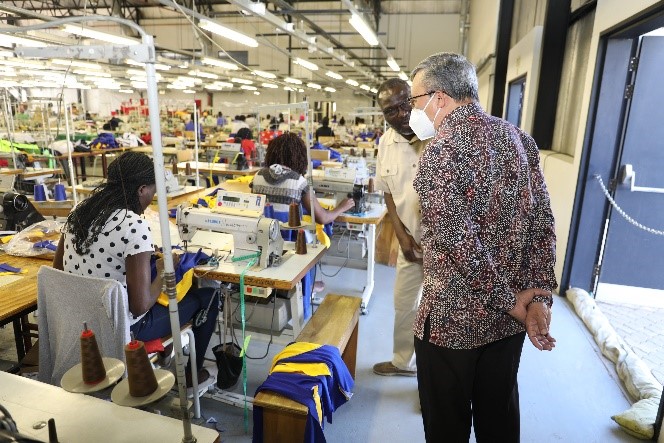 Jakarta (Indonesia Window) – The Managing Director of Namibian textile company, Dinapama Manufacturing & Suppliers CC, David Namalenga, has acknowledged the quality of Indonesian textiles, according to a written statement from the Indonesian Embassy in Windhoek received here on Thursday (Dec. 2).
Namalenga stated the recognition to Indonesian Ambassador to Namibia Wisnu Edi Pratignyo while witnessing the opening of a container containing textile products imported by Dinapama from Indonesia on Tuesday (Dec. 30).
Dinapama chose textiles from Indonesia because of their excellent quality.
"The quality of textiles imported from Indonesia is very good, even though the price is relatively expensive," Namalenga said.
However, under certain conditions, Dinapama does not hesitate to bring textile materials from Indonesia by air transportation.
Dinapama has been importing fabrics from Argo Pantes Indonesia since seven years ago.
The superiority of the imported textiles motivated Namalenga to visit Indonesia to get more varied fabrics.
"The Indonesian Embassy will look for potential business partners and facilitate business matching between Dinapama and several Indonesian textile companies," said Ambassador Wisnu Edi in response to Dinapama's plan to expand cooperation with Indonesia.
On the sidelines of the meeting, Dinapama's managing director invited the Indonesian ambassador to visit the company's factory that process textiles from Indonesia into various types of work clothes.
Reporting by Indonesia Window