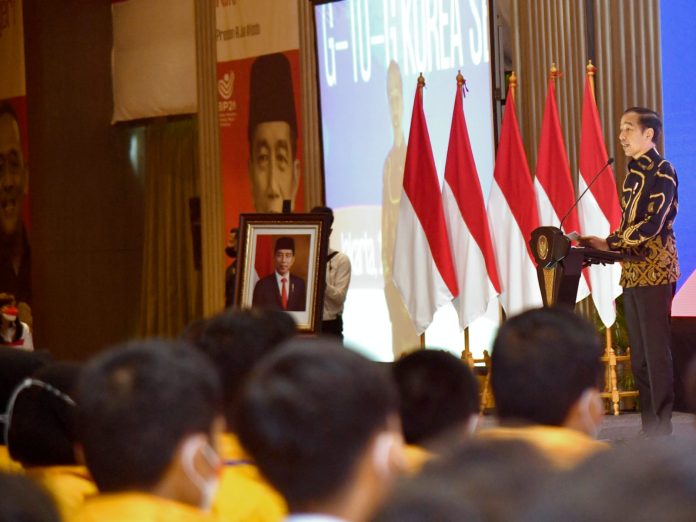 Indonesia (Indonesia Window) – Migrant workers of Indonesia were seen off by Indonesian President Joko Widodo for South Korea under a government-to-government (G-to-G) scheme at the El Royale Hotel in Jakarta, Monday (Oct. 17).
In his remarks, the president said he was happy with the event because the migrant workers of Indonesia (locally known as PMI) are human resources with high competence, skills, education and enthusiasm.
"I observed that they (the migrant workers) are really optimistic. I am happy because these brothers and sisters are well prepared. There are briefings. The objectives are clear," the president said.
The head of state also said he was happy because currently there are more requests for PMI through other schemes such as private-to-private and business-to-business arrangements.
For this reason, the president asked that the relevant ministries/institutions, in this case the Ministry of Manpower and the Indonesian Migrant Workers Protection Agency (BP2MI), be prepared for the requests so that Indonesian migrant workers really have good skills.
"I am happy that there will be more private-to-private, and B2B (business-to-business) schemes which are in high demand. There are requests of 1,800 welders. This skill is not easy. It should therefore need preparations," he said.
"This is a big task for the Minister of Manpower and the Head of BP2MI, so we really have to prepare skilled workers with high skills," he added.
The president explained that currently the total number of PMIs abroad reached nine million people, but only half of that number were legal workers.
Related to this, he encouraged BP2MI to keep working hard to record all the PMIs abroad in order to reduce the presence of them working through illegal channels.
President Jokowi also advised that the PMIs be wise in using their income they would earn later.
Widodo noted that the amount of their income would be quite high, and suggested that the Indonesian migrant workers save their salaries and not to be consumptive in using their money.
"Don't think that as we're already in Korea, then buy good cellphones as it would be consumptive. Be careful. We should not buy good clothes which are branded. Just save the money into clear accounts," he said.
Also attending the event were Minister of Manpower Ida Fauziyah, Head of BP2MI Benny Rhamdani, Indonesian Ambassador to the Republic of Korea Gandi Sulistiyanto, and Ambassador of the Republic of Korea to Indonesia Park Taesung.
Reporting by Indonesia Window