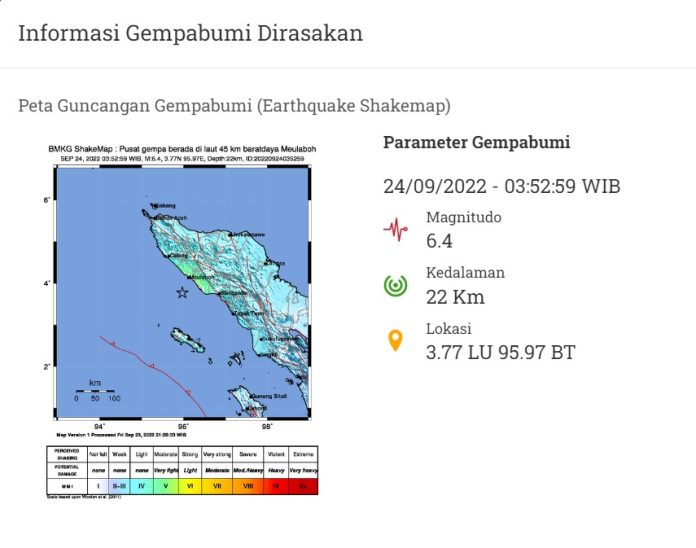 Jakarta (Indonesia Window) – An earthquake with a magnitude of 6.4 hit Meulaboh city, in Indonesia's westernmost province of Aceh, on Sept. 24, 2022, at 3:52 am local time, the Meteorology, Climatology and Geophysics Agency (BMKG) said here Saturday.
According to the BMKG, the epicenter of the M 6.4 quake was in the sea 45 kilometers southwest of Meulaboh, at a depth of 22 kilometers, and was felt in Aceh province's capital of Banda Aceh.
The earthquake was also felt in the districts of Aceh Besar with a scale of III MMI (Modified Mercalli Intensity/MMI), Pidie (II MMI), South Aceh (IV MMI), Nagan Raya (IV MMI), Takengon (III MMI), Bener Meriah (III MMI), Semeulue (III MMI), Bireun (II MMI), Aceh Tamiang (II MMI) and Langsa (II MMI).
The 6.4 M quake that occurred at 3.77 North Latitude-95.97 East Longitude did not have the potential for a tsunami.
Reporting by Indonesia Window