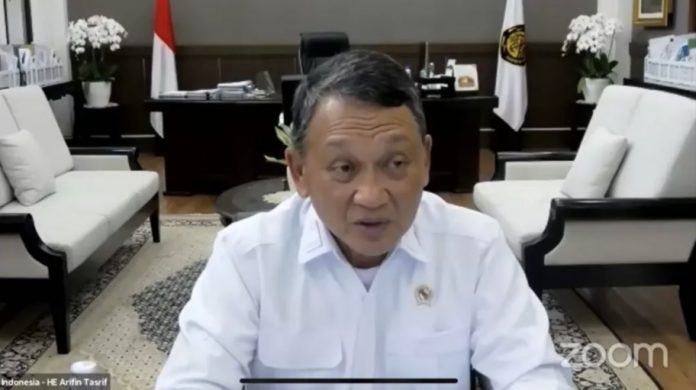 Jakarta (Indonesia Window) – Minister of Energy and Mineral Resources Arifin Tasrif has enhanced Indonesia's commitment to using clean energy to reduce carbon dioxide (CO2) emissions.
The statement was delivered by the Indonesian Minister of Energy and Mineral Resources in his keynote speech at the third East Asia Energy Forum which was held virtually on Tuesday (Nov 17).
Arifin said energy efficiency and the use of renewable energy play a role in reducing CO2 emissions, yet fossil fuels still dominate most of the ASEAN and East Asia regions.
The minister added that in Indonesia, biomass has been widely used in the clean energy transition.
Currently, Indonesia is preparing to integrate urban wastes and power plants in 12 cities, as well as develop biofuels to reduce fossil fuels consumption.
"The use of biomass is also one of our steps in reducing emissions from coal-fired power plants through coal co-firing," Arifin said.
Cofiring is a low-cost technology that converts biomass into electricity efficiently and cleanly by adding this renewable energy source as a partial replacement fuel in coal boilers.
In the cofiring scheme, biomass pellets made from all types of organic wastes are used.
He also conveyed the important role of Carbon Capture, Utilization and Storage (CCUS) to reduce CO2 emissions.
"Currently CCUS is a global important topic to reduce CO2 emissions and reuse them to increase oil recovery in depleted oil fields," Arifin said.
Indonesia has many sources of CO2, such as from coal-fired power plants, natural gas processing, oil refineries, and various chemical plants.
A feasibility study on the CCUS pilot project in the Gundih field, Central Java has been carried out. The total potential for CO2 reduction is 2.9 million tonnes over 10 years.
In 2017 Indonesia established the CCS/CCUS National Center of Excellence to increase capacity in the technical, safety, economic, social and regulatory aspects.
The center's main activities are strengthening public and private frameworks through creating platforms, identifying investment opportunities, disseminating policies and regulations, as well as implementing CCUS best practices.
"Indonesia welcomes all parties to join in the development of CCUS in order to achieve sustainable energy commitments," Minister Arifin said.
Reporting by Indonesia Window